胰腺中多肽/蛋白质对葡萄糖动态平衡的影响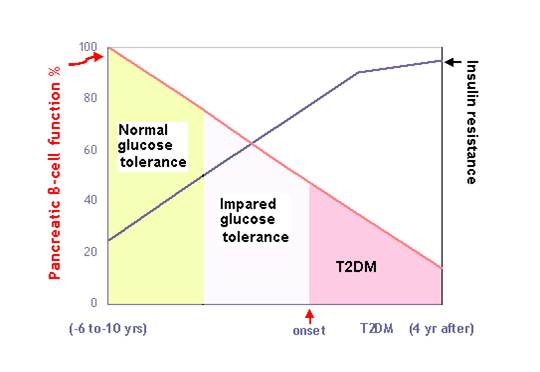 Insulin resistance—a state in which the capacity of target cells to respond to normal insulin levels is reduced—has a central role in the development of T2DM. Inducers of insulin resistance act, at least in part, by activating various serine/threonine protein kinases that phosphorylate IRS proteins as well as other components of the insulin signalling pathway. In so doing, they exploit negative feedback control mechanisms otherwise utilized by insulin itself to terminate insulin signal transduction. Phosphorylation of IRS proteins inhibits their function and interferes with insulin signalling in a number of ways, leading to the development of an insulin-resistant state.
中枢神经系统中的多肽/蛋白质对葡萄糖动态平衡的影响
Peptides ( P5 and CIP) or drugs ( TZD or MRL24 ) that inhibit CDK5 phosphorylation of PPAR may reverse the obesity-linked changes in gene expression. This will be useful to promote insulin sensitivity and resistance to obesity

Figure from: nature 466, 451-456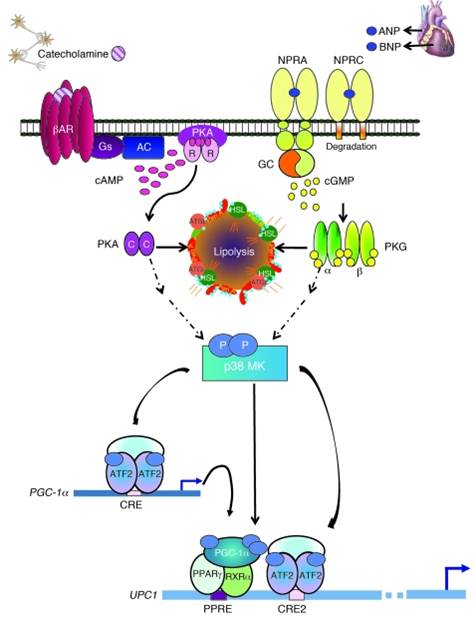 Figure from: Bordicchia M et al. J Clin Invest. 2012 Mar 1;122(3):1022-36
脂肪组织中的多肽/蛋白质对葡萄糖动态平衡的影响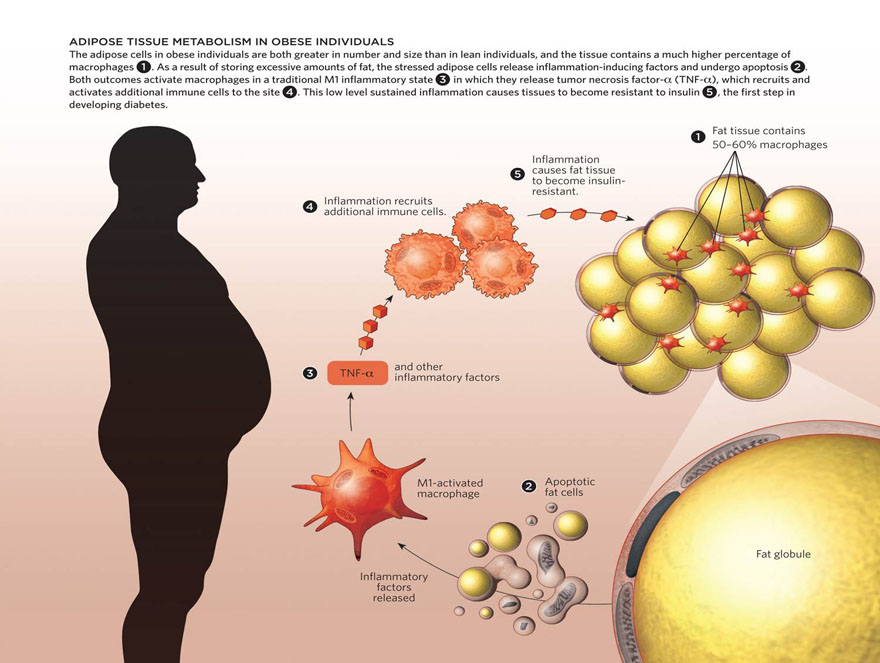 Odegaard J. and Chawla A., "Fat's Immune Sentinels" The Scientist, Vol. 26, Issue 12. DOI: 10.3410/B4-13.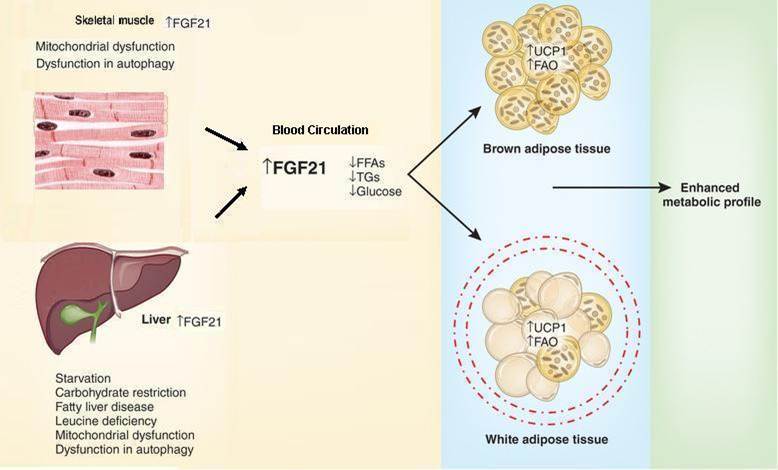 The FGF21 response to metabolic stress in the liver and muscle. During conditions of severe hepatic and muscular stress, FGF21 expression and secretion are induced. FGF21, in turn, signals to WAT and BAT, enhancing substrate utilization through fatty acid oxidation (FAO) and thermogenic uncoupling (UCP1). This process may protect the muscle and liver from additional metabolic stress by sequestering dietary nutrients into fat tissues. Kim et al. provide evidence that this response effectively reduces the concentrations of triglycerides (TGs), free fatty acids (FFAs) and glucose in the circulation of mice with a muscle-specific defect in autophagy, resulting in a marked improvement in their metabolic profile.

Ffolliott Martin Fisher & EleftheriaMaratos-Flier, Stress heats up the adipocyte. Nature Medicine 19, 17–18 (2013)
| | |
| --- | --- |
| Peptides ( P5 and CIP) or drugs ( TZD or MRL24 ) that inhibit CDK5 phosphorylation of PPAR may reverse the obesity-linked changes in gene expression. This will be useful to promote insulin sensitivity and resistance to obesity | Model for parallel ¦Â-AR and NPRA activation of p38 MAPK to trigger expression of the brown fat thermogenic gene program |
| | |
| Nature 466, 451-456 | Bordicchia M et al. J Clin Invest. 2012 Mar 1;122(3):1022-36 |