A hormone thought to boost appetite rises in the bloodstream after dieters lose lots of weight, possibly explaining why it's so hard to keep weight off long term - and offering a new target for a diet drug, researchers say.


Their small study of severely obese people found much higher levels of a recently discovered hormone made by stomach cells, ghrelin, in the blood after the patients had lost significant weight.
However, very little ghrelin was in the blood of several people who lost weight after gastric bypass surgery, an operation that sews shut 95 percent of the stomach and reroutes the flow of food.


Not only did ghrelin levels not go up, but in people who lost an enormous amount of weight, it went way down,'' said Dr. David E. Cummings, an endocrinologist who led the researchers at the University of Washington and the Veterans Affairs Puget Sound Health Care System.


Cummings and Dr. Mitchell S. Roslin, chief of obesity surgery at Lenox Hill Hospital in New York, say the abnormally low ghrelin levels after gastric bypass could help explain why it is more successful than dieting or operations that simply reduce stomach size.


Ghrelin is thought to be nature's way of making people fatten up when food is plentiful to increase survival during cycles of famine, a protective mechanism now harmful when plenty of high calorie food is available.


The researchers and other experts say the findings are circumstantial evidence of ghrelin's effects, and more research is needed.


The body has multiple backup systems for regulating body weight, probably including other hormones not yet discovered, said Dr. Stephen H. Schneider, director of diabetes services at UMDNJ-Robert Wood Johnson Medical School in New Brunswick, N.J. This is probably one of a number of substances which control appetite,'' and it's unclear how they interact, he said.


The study, reported in Thursday's edition of the New England Journal of Medicine, involved patients who had sharply reduced their weight and kept stable for three months. Five patients who had gastric bypass surgery dropped from an average of 435 pounds to 280 pounds, while 13 people on a supervised low-fat, liquid diet dropped from an average weight of 220 pounds to 182 pounds.


In the diet group, ghrelin levels were consistently about 50 percent higher after weight loss. Levels spiked before meals and plunged after, both before and after weight loss.


The bypass group had barely detectable ghrelin levels and on average had 72 percent less ghrelin than five dieters who ended up at about the same body mass index, a ratio of weight to height. The bypass patients also had 77 percent less ghrelin on average than a comparison group of 10 normal-weight people.


Some 75,000 to 100,000 severely obese Americans are expected to undergo some type of bariatric, or stomach-reducing, surgery this year. Gastric bypass is meant only for people at least 100 pounds overweight.


Ghrelin, discovered about two years ago, has a role in promoting growth, from making children taller to building bone density.


Injecting the hormone in rodents makes them eat right away, but ghrelin has not been proven to stimulate appetite in people. Still, several major pharmaceutical companies are trying to develop drugs to block the hormone, Cummings said. "A true cure for obesity would be the biggest moneymaker that any drug company's ever seen,'' he said.
AOL News Main, 05/22/02 17:00 EDT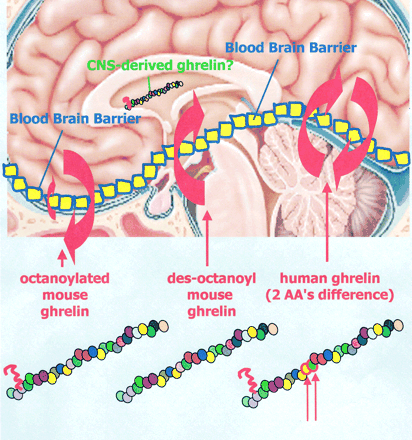 Ghrelin enables the stimulation of growth hormone release and control of energy balance.
Differential transport of mouse ghrelin, des-octanoyl mouse ghrelin, and human ghrelin across the blood-brain barrier in mice. Although octanoylated (bioactive) mouse ghrelin crosses the mouse BBB predominantly in the brain-to-blood direction, passage for des-octanoyl mouse ghrelin was observed only in the blood-to-brain direction. Human ghrelin, which differs from mouse ghrelin by two amino residues only, was transported in both directions in mice. The extent and direction in which the ghrelin can cross the BBB is therefore influenced by at least two features of its primary structure, its post-translationally added fatty acid side chain and its amino acid sequence.

William A. Banks, Matthias Tschöp, Sandra M. Robinson and Mark L. Heiman. THE JOURNAL OF PHARMACOLOGY AND EXPERIMENTAL THERAPEUTICS. Vol. 302, Issue 2, 822-827, August 2002
A more stable Ghrelin analog for your obesity research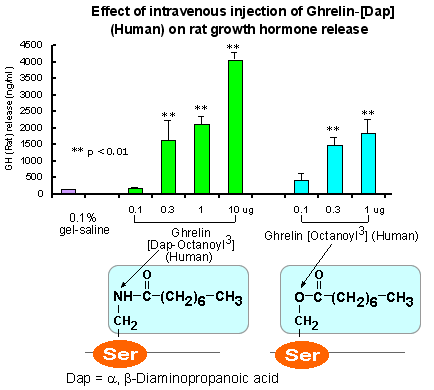 Serum Ghrelin-ir in SD Rats: 1.26±0.14 ng/ml and the fasting SD Rats: 2.86±0.28 ng/ml (non-extracted)1;Plasma Ghrelin-ir in lean Caucasians: 155±25 fmol/ml and obese Caucasians: 106±23 fmol/ml2.
Lean Caucasians
Obese Caucasians
Lean Pima Indians
Obese Pima Indians
n
7
8
7
8
Sex-Female
3
4
3
4
Sex-Male
4
4
4
4
Age (Years)
32±11
30±7
33±4
32±5
Body weight (kg)
71.4±9.8
109.8±16.8
70.3±9.6
109±15.2
BMI (kg/m2)
25.4±2.3
38.2±4.8
24.0±1.9
37.9±6.6
Body fat (%)
22±9
35±7
24±7
35±5
Plasma Ghrelin (fmol/ml)
155±25
106±23
95±13>
80±36
Plasma Glucose (mg/dl)
87±7
91±4
89±6
95±7
Plasma Insulin (uU/ml)
4±3
10±3
6±3
18±10
Plasma Leptin (ng/ml)
8±7
53±47
10±9
35±27
Tschöp, M., et al. Diabetes 50, 707-709, 2001
Ghrelin is a gut-brain peptide hormone that plays an important role in the control of energy metabolism. In the mouse, the expression of its receptor, growth hormone secretagogue receptor (GHSR), was reported to be highest in two brain regions, the arcuate nucleus (ARC) in the hypothalamus and non-preganglionic Edinger-Westphal nucleus (npEW) in the midbrain. The npEW is also the most dominant site of urocortin 1 (Ucn1) expression in the mammalian brain and the npEW-Ucn1 neurons play an important role in stress adaptation response.
Despite the importance of ghrelin for regulating food intake and body weight, mice lacking ghrelin or GHSR show no, or only a modest metabolic phenotype. Because GHSR mRNA is abundantly present in the stress-sensitive npEW, we hypothesized that ghrelin is not only involved in metabolism control but also in the stress response. To test this we studied the ghrelin-KO mice, under basal non-stressed and acute stressed conditions. Under basal conditions, KO mice have higher activation of npEW-Ucn1 neurons as demonstrated by dual label Ucn-1 and Fos immunohistochemistry. After restraint stress both wild-type (WT) and KO mice revealed an increased activation of the npEW nucleus, but we found that stress recruited Ucn1-ir neurons only in WT, but not in KO mice. We also determined Ucn1 mRNA expression in stressed and non-stressed conditions in KO and WT mice by in situ hybridization and found a strong up-regulation of Ucn1 mRNA in KO than in WT mice. Moreover, KO but not WT mice revealed stress-induced Ucn1 mRNA expression. Taken together, our data provide evidence for ghrelin actions in stress response. We propose that Ucn1 neurons in the npEW are instrumental in ghrelin´s action on the animal´s stress adaptation response.

L. Xu et al., C137 Deletion of ghrelin alters the response of Edinger-Westphal nucleus to restraint stress in the mouse. Poster session presented at IBRO 2011. 8th International Brain Research Organization World Congress of Neuroscience; 2011 July 14-18; Florence, Italy.
| | |
| --- | --- |
| | William A. Banks, Matthias Tschöp, Sandra M. Robinson and Mark L. Heiman. THE JOURNAL OF PHARMACOLOGY AND EXPERIMENTAL THERAPEUTICS. Vol. 302, Issue 2, 822-827, August 2002 |
| | |
| --- | --- |
| | Pemberton C, et al. Biochem Biophys Res Commun. 2003 Oct 17;310(2):567-73. |
| | |
| --- | --- |
| | Poykko SM, et al. Diabetes. 2003 Oct;52(10):2546-53. |
| | |
| --- | --- |
| | Broglio F, Prodam F, Benso A , et al.,Endo 2003, PHiladelphia, June 2003, Abstract #553. |
| | |
| --- | --- |
| | Volante M., et al. American Journal of Pathology. 2003;162:645-654 |
| | |
| --- | --- |
| | Baldanzi G, et al. J Cell Biol 2002 Dec 23;159(6):1029-37 |
Sections serial to those used for conventional histology were collected onto poly-L-lysine-coated slides and stained for ghrelin using a standard manual immunoperoxidase procedure with streptavidin-peroxidase (LSAB2 kit; DAKO, Glostrup, Denmark) and diaminobenzidine as the final reaction product. Ghrelin antibody was an anti-human ghrelin polyclonal serum (amino acids 24 to 51, code H-031-30; Phoenix Pharmaceuticals, Inc.), diluted 1/15,000, incubated or 1 hour at room temperature, with no previous antigen retrieval and revealed applying catalyzed reporter deposition (CARD) amplification with slight modifications. Negative control reactions forghrelin included omission of the primary antibody and preabsorption with a 100-fold excess of the antigen, as described elsewhere.The positive control for ghrelin were the endocrine cells of the oxyntic mucosa of the stomach. The follicular origin of the tumors was evaluated by IHC with polyclonal anti-calcitonin (diluted 1/80, DAKO) and anti-thyroglobulin (diluted 1/3000; Biogenex, San Ramon CA) antibodies. Selected cases were also stained with a double-immunohistochemical procedure using the same antibodies that react with ghrelin and thyroglobulin. This procedure was based on an immunoalkaline phosphatase (LSAB plus kit, DAKO)/fast red (BioGenex) reaction for ghrelin, followed by immunoperoxidase staining of thyroglobulin, using an anti-rabbit secondary antibody and the EnVision kit (DAKO). Ghrelin protein expression was also evaluated in the two cell lines applying the same ghrelin antibody at a working dilution of 1/400, and visualized in immunofluorescence with an anti-rabbit fluorescein isothiocyanate-conjugated antibody (diluted 1/100; Sigma Aldrich, Steinheim, Germany).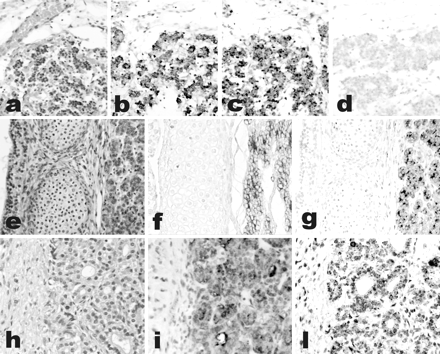 Ghrelin expression in the human fetal thyroid. Thyroids from the early fetal period (a–d, gestational age 10 weeks; e–g, gestational age 12 weeks) show co-expression of thyroglobulin (b and f) and ghrelin (c and g) in the same cell population, as detected by IHC. Staining is abolished by preabsorption with full-length ghrelin peptide (d). Ghrelin expression is weaker in late fetal thyroid (h–l, gestational age 28 weeks), as shown by both IHC (i) and in situ hybridization (l). a, e, h: H&E; b–d, f, g, i: immunoperoxidase; l: in situ hybridization. Original magnifications, x200.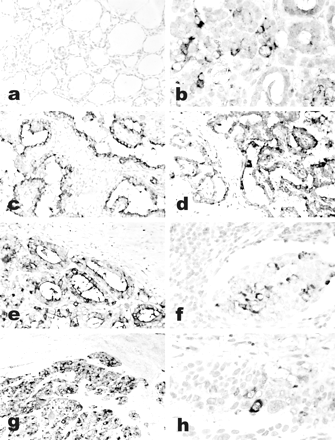 Ghrelin expression in thyroid tumors. Immunoreactive ghrelin is absent in peritumoral thyroid tissue (a), focally present in a follicular adenoma (b) and in an anaplastic carcinoma (h), and strongly expressed in classic (c) and follicular variant (e) papillary, and in poorly differentiated (g) carcinomas. Immunohistochemical data are paralleled by a specific in situ hybridization signal for ghrelin mRNA (d, same area as c). Lymph node metastases retain the ghrelin expression capacity of the primary sites (f, same case as e). a–h: Immunoperoxidase. Original magnifications: x200 (a, c–e, g); x400 (b, f, h).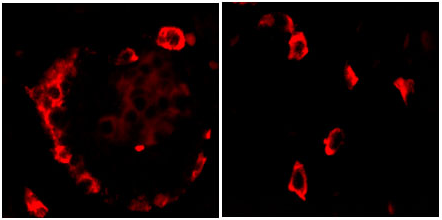 Ghrelin-immunoreactive (IR) cells in fetal and neonatal pancreas were stained by Phoenix Ghrelin (Rat) Antibody (H-031-31) (1:800).
Dr. Frank Sundler & Dr. N. Wierup, Neuroendocrine Cell Biology, University of Lund, Sweden.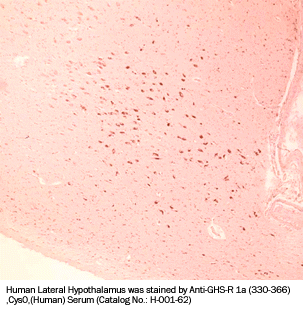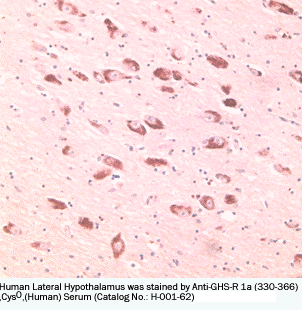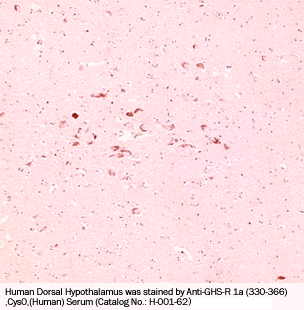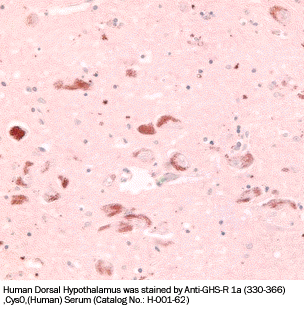 Preliminary Detection of Extracted Plasma Level of C-terminal Pro-Ghrelin / Ghrelin, Prepro, (86-117) in healthy subjects (n=5): 92.2 pg/ml (46~144 pg/ml) .

Serum Ghrelin-ir in SD Rats: 1.26 ± 0.14 ng/ml and the fasting SD Rats: 2.86 ± 0.28 ng/ml (non-extracted)

Tschöp, M. et al. Nature. 407, 908-913, 2000;

Plasma Ghrelin-ir in lean Caucasians: 155 ?25 fmol/ml and obese Caucasians: 106 ?23 fmol/ml.

Tschöp, M. et al. Diabetes. 50, 707-709, 2001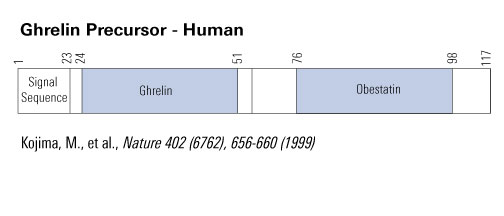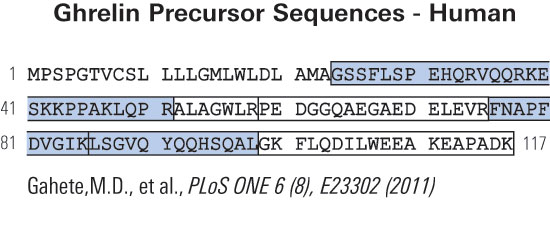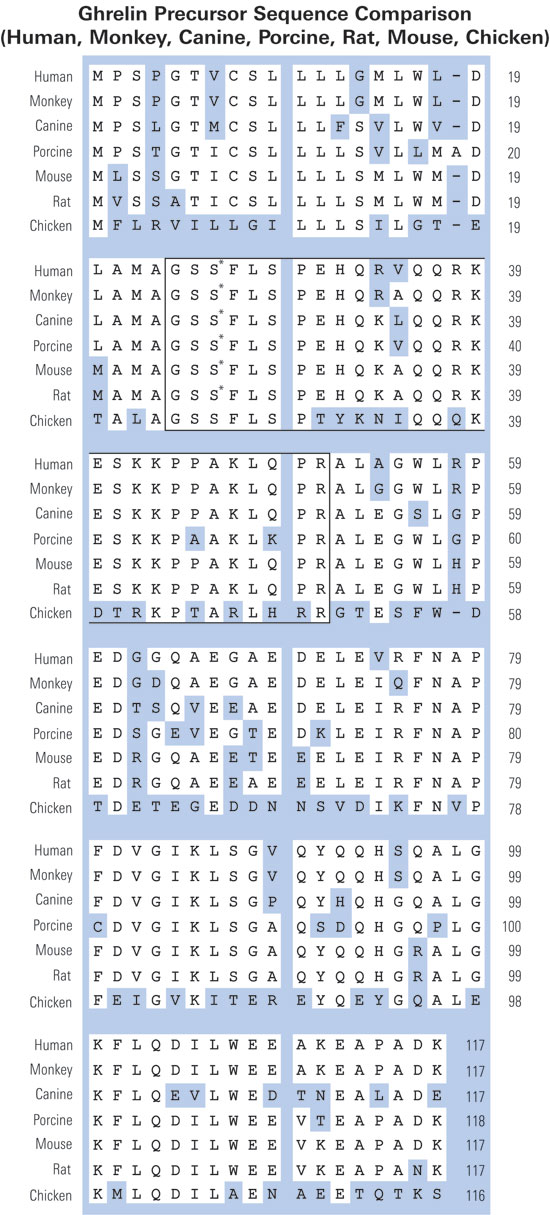 Fig. 1. Pro-ghrelin sequences in six species, as obtained from NCBI GenBank and protein databases (Accession Nos. in the order they appear: human, NP_057446; rat, NP_067701; bovine, NP_776492; porcine, Q9GKY5; canine, Q9BEF8; and ovine, BAC75928). The boxed region indicates ghrelin (a potent GH secretagogue) derived from the N-terminal 28 amino acids. The grey region is pro-ghrelin(63~94). The bold type, underlined region indicates pro-ghrelin(74~94).
Ghrelin_GOAT;in1-ghrelin;in2-ghrelin;ghrelin-kit;ghrelin-determination;Ghrelin-Reference-01;
%ghrelin%