Phoenix provides high quality antibodies and their derived products. This is achieved through consistent and stringent production and evaluation processes:

More than 98% of Phoenix antigens used for antibody production are produced in-house, which ensures purity and consistence of our antigen source.
Antibody specificity in immunoassays is demonstrated by extensive cross-reactivity tests.
Antibody specificity in immunohistochemistry is validated by negative controls with pre-absorption of targeted peptides/proteins.
The ability of an antibody to detect its targeted antigen in different biological samples (i.e. blood and tissues) is validated using various purification processes (immunoprecipitation, western blot, HPLC) and mass spectrometry analysis.
Different antibodies raised against the same antigen have different specificity and affinity to the target antigen.
Some antibodies work well in assays such as RIA and ELISA, while others are more suitable for immunohistochemistry or western blot.
It is critical to choose the right antibody for a specific research purpose.
We evaluate each antibody and recommend its utility in different applications.
More than 98% of Phoenix antigen and antibodies are produced in-house, which ensures a stable long-term supply. Antiserum from a single bleeding can provide at least a 10-year supply for the scientific research market.
Strictly QA procedures are in place to maintain both ISO9002- and CE-required traceable procedures.
The system tracks each lot of antibody from the antigen to the rabbit number and bleeding number.
The system tracks the lot numbers of antigen and antibody provided in an assay kit.
We conduct in-house research and collaborate with the scientific community.
These ongoing research programs support our effort in antibody validation, product development and quality improvement.
Many of our research findings on antibody characterization and application have been presented at scientific meetings and published in peer-reviewed journals.
The following are examples of our research work in characterization of antibody for Ghrelin and INSL-3, and identification of neuronostatin and Phoenixin.
Neuronostatin Antibody
Mass spectrometry, microsequencing and radioimmmunoassay shows the capture of pancreatic neuronostatin by the Phoenix antibody (cat. # G-060-50).

Cross-reactivity of human neuronostatin antibody in EIA and RIA Kits

Immunohistochemical using Phoenix's Neuronostatin antibody (Cat. # H-060-50) in pancreatic cells (a), which is comparable with the somatostatin antibody staining (b). No staining can be found after absorption of the Neuronostatin antibody with Neuronostatin peptide in mouse pancreas tissue (c).
WK et al. J Biol Chem. 2008 Nov 14;283(46):31949-59.
Specificity of Phoenixin Antibody for EIA and RIA kits
Fluorescence staining of rat spinal tissue by phoenixin antibody (Cat. # H-079-01) (A,B,E) but no staining seen by phoenixin pre-absorbed antibody (F).

Phoenixin-14amide and Phoenix-20amide were captured from rat heart homogenates by using immunoprecipitation with Phoenixin antibody (G-079-01) coupled with mass spectrometry analysis.
Lyu et al. Neuroscience. 2013 Oct 10;250:622-31.
Human INSL 3 Antibody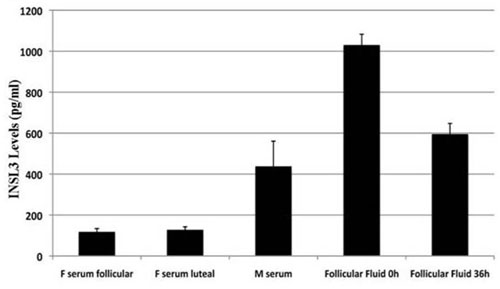 Determination of INSL3 levels in monkey sera and follicular fluid during controlled ovarian stimulation (COS) protocols at 0-h and 36-h post hCG treatment by using phoenix's (Cat RK-035-27). F serum follicular, female serum at follicular phase; F serum luteal, female serum at luteal phase; M, male. The value is presented as mean ± SE. Tissue lysate, sections, blood and follicular fluid were isolated from 3-4 different animals
Western blot using INSL3 antibody (H-035-27) and INSL3C-peptide antibody (H-035-48) to demonstrate the present of hormones in human plasma.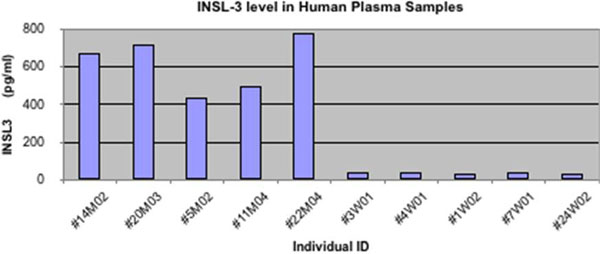 Plasma INSL3 Level and INSL3C-peptide level in male and female human umbilical cord blood samples.
Ling et al. Poster in 2015 Relaxin Conference