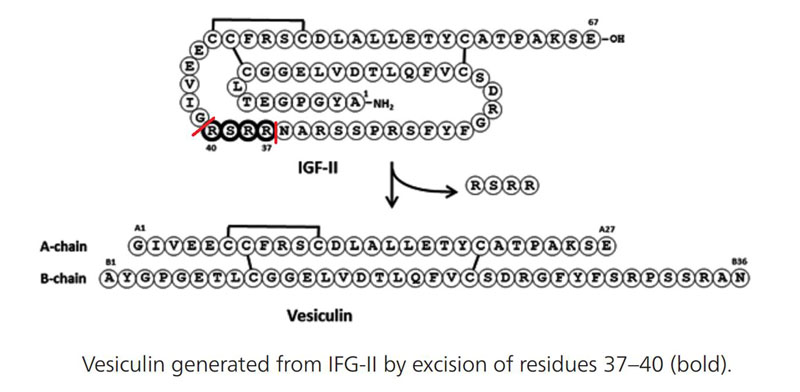 Figure from: Williams GM. et al. Org Biomol Chem. 2013 May 21;11(19):3145-50.
The search for an islet β-cell growth factor has been a key objective in recent diabetes research, since the ability to regenerate and/or protect the functioning β-cell population in patients could result in a great advancement for diabetes treatment. Insulin-like growth factor (IGF)-I and IGF-II are known to play crucial roles in fetal growth and prenatal development, and there is growing evidence that IGF-II increases β-cell proliferation and survival in vitro and in vivo. A search for the source of IGF-II-like-immunoreactivity in isolated β-cell secretory granules from the murine cell line βTC6-F7 revealed a novel two-chain IGF-II-derived peptide which we named vesiculin and which has been shown to be a full insulin agonist. Here, we present an LC-MS/MS method that enables selective detection and semi-quantitation of the highly related IGF-II and vesiculin molecules. We have used this method to measure these two peptides in conditioned media from two β-cell lines, produced under increasing glucose concentrations. This technique detected both IGF-II and vesiculin in media conditioned by MIN6 and βTC6-F7 cells at levels in the range of 0-6 μM (total insulin 80-450 μM), and revealed a glucose-stimulated increase in insulin, IGF-II and vesiculin. IGF-II was detected in adult human and neonatal mouse serum in high levels, but vesiculin was not present. The methodology we present herein has utility for detecting and differentiating active peptides that are highly related and of low abundance.

Lee KL, Middleditch MJ, Williams GM et al., Endocrinology. 2014 Dec 29:en20141593. [Epub ahead of print]
Diabetes mellitus, characterised by hyperglycemia and altered β-cell function, is an increasingly common disorder affecting millions of individuals world-wide. While therapeutic regimens exist to manage the condition, diabetic individuals remain prone to complications that are detrimental to both their length and quality of life. An improved understanding of the disease which may then enable development of new treatments is therefore a desirable goal. Vesiculin, a novel IGF-II-like protein was recently isolated from the secretory granules of murine β-cells, and preliminary studies indicate it is capable of signalling via the insulin receptor (IR)/insulin-like growth factor receptor 1(IGF1R) family giving it the potential to elicit both metabolic and mitogenic responses in the beta-cell. In order to facilitate further studies on this new member of the insulin-family of hormones, we undertook a chemical synthesis of the protein using regioselective disulfide bond formation.

Williams GM, Cooper GJ, Lee K et al., Org Biomol Chem. 2013 May 21;11(19):3145-50. doi: 10.1039/c3ob40322j. Epub 2013 Mar 28.
OBJECTIVE: Insulin-like growth factor II (IGF-II) is a potent mitogen that regulates prenatal growth and development in both humans and rodents. Its role in post-natal life is less clear although immunohistochemical studies have observed IGF-II-like immunoreactivity (IGF-II-LI) associated with insulin-producing pancreatic β-cells. Here we isolated secretory granules from a β-cell line, βTC6-F7, and characterized the nature of the IGF-II-LI located therein.
DESIGN: Secretory granules were isolated from cultured mouse βTC6-F7 cells by ultracentrifugation. Granule protein content was separated by reversed-phase HPLC, and assayed for IGF-II (radioimmunoassay) prior to identification by gas-phase NH(2)-terminal sequencing and MALDI-TOF MS. Effects of glucose incorporation into muscle glycogen were determined by incubating with isolated rat soleus muscle strips.
RESULTS: βTC6-F7 cells contained 60 ± 8 pmol of IGF-II-LI per 108 cells compared to 340 ± 44 pmol insulin-LI per 108 cells. IGF-II immunoreactive fractions were found to contain an IGF-II-like molecule with a molecular mass of 6847.6 Da. The protein was found to be a two-chain insulin-like product of Igf2 that corresponds to mouse des(37-40)IGF-II, which we termed 'vesiculin'. This molecule was also detectable in βTC6-F7 cells by intact-cell mass spectrometry. Mouse vesiculin evoked concentration-dependent stimulation of muscle glycogen synthesis ex vivo with an EC(50) value of 131 nM ± 1.35.
CONCLUSIONS: Vesiculin, des(37-40)IGF-II, is a novel two-chain insulin-like hormone and the major "IGF-II-like" peptide found in purified mouse βTC6-F7 secretory granules. It stimulated ex vivo muscle glycogen synthesis with an efficacy greater than or equal to the intrinsic potency of IGF-II when compared to insulin derived from the same species.

Buchanan CM, Phillips AR, Cooper GJ. Growth Horm IGF Res. 2010 Oct;20(5):360-6. doi: 10.1016/j.ghir.2010.06.003. Epub 2010 Jul 24.