Novel Paradigm of Metabolic Regulation
Convention of white, brown adipocytes and muscles
Sonic Hedgehog, human
080-12
5 µg / 25 µg / 100 µg
$235 / $995 / $3,795
mAb, human sHh
080-28
5 µg / 25 µg / 1000 µg
$275 / $975 / $2,775
SAG (SMO agonist)
080-59
1 mg / 5 mg / 25 mg
$149 / $449 / $1,349
Purmorphamine (SMO agonist)
080-60
5 mg / 25 mg / 100 mg
$99 / $359 / $1,139
25-hydroxycholesterol (agonist)
080-61
5 mg / 25 mg / 100 mg
$45 / $145 / $445
20-hydroxycholesterol (agonist)
080-62
5 mg / 25 mg / 100 mg
$40 / $140 / $640
Cyclopamine (antagonist)
080-63
5 mg / 25 mg / 100 mg
$49 / $149 / $349
Jervine (antagonist)
080-64
1 mg / 5 mg / 25 mg
$99 / $399 / $1,399
GDC-0449 (SMO antagonist)
080-65
5 mg / 25 mg / 100 mg
$94 / $294 / $994
LDE225 (SMO antagonist)
080-66
2 mg / 10 mg / 50 mg
$85 / $225 / $625
IPI-926 (antagonist)
080-67
1 mg / 5 mg / 25 mg
$126 / $426 / $1,426
WNT-3a, human
080-01
5 µg / 25 µg / 100 µg
$245 / $1,095 / $3,995
WNT-3a, mouse
080-02
5 µg / 25 µg / 100 µg
$195 / $995 / $3,495
WNT-5a, human
080-03
5 µg / 25 µg / 100 µg
$345 / $1,395 / $4,995
WNT-5a, mouse
080-04
5 µg / 25 µg / 100 µg
$245 / $1,145 / $3,995
DKK-1, human
080-16
25 µg / 100 µg / 500 µg
$215 / $895 / $3,135
DKK-1 Fc fusion, human
080-15
50 µg / 250 µg / 1000 µg
$295 / $1,195 / $3,995
Frizzled-8 Fc fusion, human
080-18
50 µg / 250 µg / 1000 µg
$195 / $905 / $1,950
Human/Mouse TCF Reporter Cell
080-52 / 080-53
5 million cells / 5 million cells
$3,999 / $3,999
R-spondin-1, human
080-19
5 µg / 25 µg / 100 µg
$91 / $291 / $991
CHIR99021 (GSK-3 inhibitor)
080-56
2 mg / 10 mg / 50 mg
$93 / $293 / $993
IWP-2 ( Porcupine inhibitor)
080-57
2 mg / 10 mg / 50 mg
$62 / $162 / $582
XAV-939 (Tankyrase inhibitor)
080-58
2 mg / 10 mg / 50 mg
$59 / $159 / $459
Activin A, human
080-05
5 µg / 25 µg / 100 µg
$175 / $745 / $1,975
TGF-β1, human
080-09
5 µg / 25 µg / 100 µg
$199 / $759 / $1,999
BMP-4, human
080-06
5 µg / 25 µg / 100 µg
$185 / $895 / $3,195
BMP-2, human
080-54
5 µg / 25 µg / 100 µg
$122 / $522 / $1,422
BMP-7, human
080-55
5 µg / 25 µg / 100 µg
$127 / $527 / $1,527
Follistatin Fc fusion, human
080-22
50 µg / 250 µg /1000 µg
$175 / $745 / $1,975
Noggin, human
080-24
50 µg / 250 µg /1000 µg
$195 / $895 / $2,995
Dorsomorphin (ALK-2,3,6 inhibitor)
080-68
2 mg / 10 mg / 50 mg
$69 / $169 / $569
SB 431542 (ALK-4,5,7 inhibitor)
080-69
2 mg / 10 mg / 50 mg
$49 / $149 / $449
A83-01
080-70
2 mg / 10 mg / 50 mg
$83 / $238 / $638
ALK-5 Inhibitor
080-71
2 mg / 10 mg / 50 mg
$55 / $155 / $455
LDN-193189
080-72
2 mg / 10 mg / 50 mg
$89 / $219 / $569
LY-364947
080-73
2 mg / 10 mg / 50 mg
$47 / $147 / $547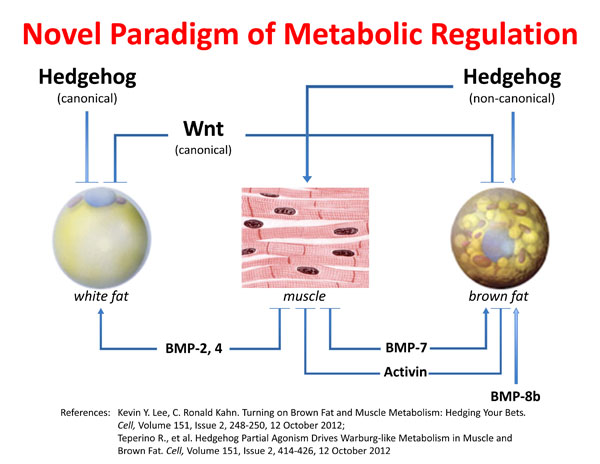 Recently, a new metabolic paradigm has been postulated based on the development of white vs. brown adipose tissue. Growth and differentiation factors involved in embryonic development are implicated in the conversion of white and brown adipocytes as well as muscle. Phoenix Pharmaceuticals and its partner StemRD are offering top-quality products in this area.
Hepatocellular carcinoma (HCC) typically develop in cirrhosis, a condition characterized by Hedgehog (Hh) pathway activation and accumulation of Hh-responsive myofibroblasts (MF). Although Hh signaling generally regulates stromal-epithelial interactions that support epithelial viability, the role of Hh-dependent MF in hepatocarcinogenesis is unknown. Here we used human HCC samples, a mouse HCC model, and hepatoma cell/MF co-cultures to examine the hypothesis that Hh signaling modulates MF metabolism to generate fuels for neighboring malignant hepatocytes. The results identify a novel paracrine mechanism whereby malignant hepatocytes produce HH-ligands to stimulate glycolysis in neighboring MF, resulting in release of MF-derived lactate that the malignant hepatocytes use as an energy source. This discovery reveals new diagnostic and therapeutic targets that might be exploited to improve the outcomes of cirrhotic patients with HCC.
Developmental genes are essential in the formation and function of adipose tissue and muscle. In this issue of Cell, Teperino et al. demonstrate that noncanonical hedgehog signaling increases glucose uptake into brown fat and muscle. Modulation of developmental pathways may serve as a potential target for new treatments of diabetes and other metabolic disorders.

Kevin Y. Lee and C. Ronald Kahn, Cell, Volume 151, Issue 2, 248-250, 12 October 2012.
Diabetes, obesity, and cancer affect upward of 15% of the world's population. Interestingly, all three diseases juxtapose dysregulated intracellular signaling with altered metabolic state. Exactly which genetic factors define stable metabolic set points in vivo remains poorly understood. Here, we show that hedgehog signaling rewires cellular metabolism. We identify a cilium-dependent Smo-Ca2+-Ampk axis that triggers rapid Warburg-like metabolic reprogramming within minutes of activation and is required for proper metabolic selectivity and flexibility. We show that Smo modulators can uncouple the Smo-Ampk axis from canonical signaling and identify cyclopamine as one of a new class of ''selective partial agonists,'' capable of concomitant inhibition of canonical and activation of noncanonical hedgehog signaling. Intriguingly, activation of the Smo-Ampk axis in vivo drives robust insulin-independent glucose uptake in muscle and brown adipose tissue. These data identify multiple noncanonical endpoints that are pivotal for rational design of hedgehog modulators and provide a new therapeutic avenue for obesity and diabetes.

Teperino R. et al, Cell, volume 151 issue 2, 414-426, 12 October 2012
%080-%