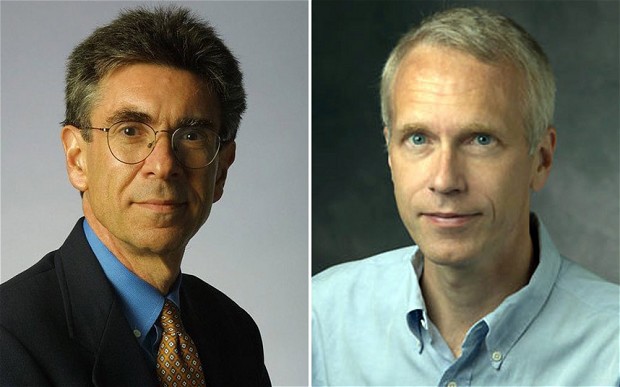 American scientists Robert Lefkowitz (left) and Brian Kobilka (right) win the 2012 Nobel Prize in chemistry
Two Americans won the 2012 Nobel Prize in chemistry Wednesday for studies of how the cells in our bodies pick up signals as diverse as hormones, smells, flavors and light. Most Phoenix's gPeptides receive those signals on cell surfaces. Kobilka, who is professor and chair of molecular and cellular physiology at Stanford, began working with Lefkowitz in the 1980s, and his first major contribution was to isolate the gene that codes for the b-adrenergic receptor. This research helped the scientists realize that g-protein receptors are a large family, with many different examples throughout the body. When the human genome was sequenced, it revealed that humans have about 800 different G-protein-coupled receptors, including many whose function is still not understood.

See the video of the Nobel Lecture by Brian K. Kobilka
Lecture slides in this video

See several publications of GPCR receptor that was published recently on tab "Research Abstracts".
Neurotensin (NTS) is a 13-amino-acid peptide that functions as both a neurotransmitter and a hormone through the activation of the neurotensin receptor NTSR1, a G-protein-coupled receptor (GPCR). In the brain, NTS modulates the activity of dopaminergic systems, opioid-independent analgesia, and the inhibition of food intake; in the gut, NTS regulates a range of digestive processes. Here we present the structure at 2.8 Å resolution of Rattus norvegicus NTSR1 in an active-like state, bound to NTS8–13, the carboxy-terminal portion of NTS responsible for agonist-induced activation of the receptor. The peptide agonist binds to NTSR1 in an extended conformation nearly perpendicular to the membrane plane, with the C terminus oriented towards the receptor core. Our findings provide, to our knowledge, the first insight into the binding mode of a peptide agonist to a GPCR and may support the development of non-peptide ligands that could be useful in the treatment of neurological disorders, cancer and obesity.

White J., Noinaj N., Shibata Y. et al, Nature 490, 508–513 (25 October 2012) doi:10.1038/nature11558
Neuronostatin, derived from the somatostatin preprohormone, is a recently described peptide that is produced by several tissues involved in cardiovascular regulation and metabolism, including the hypothalamus. Central injection of neuronostatin led to a dose-related increase in mean arterial pressure (MAP) in rats. Any attempt to inhibit the production of neuronostatin would alter somatostatin production as well, making determination of the physiologic relevance of the peptide's pharmacologic effects by compromise of production approaches impossible. We therefore employed an alternative approach-to identify and compromise the production of the neuronostatin receptor. Because neuronostatin was shown to signal via a PKA-dependent mechanism, we hypothesized that the neuronostatin receptor was a G protein-coupled receptor (GPCR), in particular, one of the orphan GPCRs for which the ligand is unknown. We therefore screened neuronostatin-responsive tissues, including hypothalamus, heart, pancreatic alpha cells, and the gastric tumor cell line KATOIII, for expression of non-odorant orphan GPCRs. Four orphan GPCRs were expressed by all cell types, including GPR56 and GPR107. Knockdown of GPR107, but not GPR56, led to a loss of responsiveness to neuronostatin by KATOIII cells. Rats injected centrally with siRNA directed against GPR107 did not exhibit an increase in MAP in response to neuronostatin treatment. Rats with compromised GPR107 expression also displayed blunted reactivity in a baroreflex sensitivity test, indicating that GPR107, and neuronostatin, may be important regulators of cardiovascular function. Thus GPR107 is a promising candidate receptor for neuronostatin, and neuronostatin, interacting with GPR107, may play an important role in the central control of cardiovascular function.

PS: Neuronostatin and several of its derived peptides were include in our GPCR peptides library since 2008.

Yosten GL, Redlinger LJ, Samson WK. Am J Physiol Regul Integr Comp Physiol. 2012 Aug 29.
Recent findings suggest that the relaxin-3 neural network may represent a new ascending arousal pathway able to modulate a range of neural circuits including those affecting circadian rhythm and sleep/wake states, spatial and emotional memory, motivation and reward, the response to stress, and feeding and metabolism. Therefore, the relaxin-3 receptor (RXFP3) is a potential therapeutic target for the treatment of various CNS diseases. Here we describe a novel selective RXFP3 receptor positive allosteric modulator (PAM), 3-[3,5-Bis(trifluoromethyl)phenyl]-1-(3,4-dichlorobenzyl)-1-[2-(5-methoxy-1H-indol-3-yl)ethyl]urea (135PAM1). Calcium mobilization and cAMP accumulation assays in cell lines expressing the cloned human RXFP3 receptor show the compound does not directly activate RXFP3 receptor but increases functional responses to amidated relaxin-3 or R3/I5, a chimera of the INSL5 A chain and the Relaxin-3 B chain. 135PAM1 increases calcium mobilization in the presence of relaxin-3(NH2) and R3/I5(NH2) with pEC50 values of 6.54 (6.46 to 6.64) and 6.07 (5.94 to 6.20), respectively. In the cAMP accumulation assay, 135PAM1 inhibits the CRE response to forskolin with a pIC50 of 6.12 (5.98 to 6.27) in the presence of a probe (10 nM) concentration of relaxin-3(NH2). 135PAM1 does not compete for binding with the orthosteric radioligand, [(125)I] R3I5 (amide), in membranes prepared from cells expressing the cloned human RXFP3 receptor. 135PAM1 is selective for RXFP3 over RXFP4, which also responds to relaxin-3. However, when using the free acid (native) form of relaxin-3 or R3/I5, 135PAM1 doesn't activate RXFP3 indicating that the compound's effect is probe dependent. Thus one can exchange the entire A-chain of the probe peptide while retaining PAM activity, but the state of the probe's c-terminus is crucial to allosteric activity of the PAM. These data demonstrate the existence of an allosteric site for modulation of this GPCR as well as the subtlety of changes in probe molecules that can affect allosteric modulation of RXFP3.

This study apply several Relaxin-3 related peptides include amide and C-terminal free acid forms of Relaxin-3 and R3/I5 from phoenix pharmaceuticals. Our current GPCR peptide library has more A and B chains of relaxin variants than you can imagination

Alvarez-Jaimes L, Sutton SW, Nepomuceno D, et al, PLoS One. 2012;7(2):e30792. Epub 2012 Feb 7.
- gPeptides (GPCR biological active peptides & proteins)
- gPeptides Library
- GPCR orphan peptides Library
- GPCR related EIA & RIA kits

Click on the links below to get more infomation about GPCR and our gPeptide Library.