SUMMARY
Peptidomics is the global biochemical profiling of complex biological systems. A peptidomic analysis identifies and measures changes in bioactive peptides and its metabolites in response to disease, drugs, diet and environmental effects. By monitoring hundreds of changes across many peptides and biochemical pathways, areas of significant biological perturbation can be rapidly identified.
Many sample types: 10-1000ul from human, knock-out mice plasma/serum, CSF, tissue or culture extract etc.
Economical: Save time, reagents and obtain test results in short periods vs. traditional immunoassay
Convenient: Apply magnetic field to speed-up processing time- 10 minute incubation vs overnight for RIA
Automated Processing: Comparable with magnetic washer or Kingfisher 96 well plates
Accuracy/Recovery: 75-100% recovery
Easily Accesible Results: Read quantitative results with: Chemiluminescence or radioimmunoassay
Preserve Results: Protect trapped analytes from degradation
1. Enrich, discovery, preserve and screen low-level Biomarkers directly from complex biological samples
2. Validate the immunoassy and speeding-up assay results
3. Cataloging and profiling the prepro-protein generated fragments to integrate the regulation of physiological hormone
4. High-throughput analysis of possible post-translational modification
Example of Affinity purification of p83 protein from Borrelia lysates. In a 1.5ml eppendorf tube, 0.2 ml antibody conjugated magnetic particle was mixed with 0.2 ml of Borrelia lysate. The right figure is the comparison on SDS-PAGE for those eluents from mixtures of lysates with antibody conjugated particles or mock particle (other antibody conjugation). The lane 1 is Borrelia Lysate eluent from Phoenix Magbead, mixed with crude lysate, Lane 2 is 100 ug of original Borrelia Lysate on gel only. Here magnetic beads are successfully used for the recovery of proteins expressed in the form of inclusion bodies, involving at first chemical extraction from the host cells, then adsorptive capture of the target protein onto small magnetic adsorbents, followed by rapid collection of the product-loaded supports with the aid of high gradient magnetic fields. The whole procedure requires less than 60 minutes to see results.

MagBeads for Biomarker Screening
Catalog Number

Product Name

Application

MB-031-30

Anti-Ghrelin MagBead (Human)

Capture of ghrelin which can be confirmed by MALDI-TOF MS

MB-031-31

Anti-Ghrelin MagBead (Mouse, Rat)

Capture of ghrelin which can be confirmed by MALDI-TOF MS

MB-005-SA

Streptavidin MagBead

Capture of biotin-labeled molecules (peptides, proteins, antibodies) or cells

MB-PRA

Protein A MagBead

Capture IgG antibody on beads
Enough to purify 1.5 mg of antibody

MB-HIGG

Anti-Human IgG MagBead

Purification of human IgG or separation of cells

MB-MIGG

Anti-Mouse IgG MagBead

Purification of mouse IgG or separation of cells

MB-ALB

Anti-Albumin (Human) MagBead

Capture of albumin or depletion of albumin from samples

MB-GAR

Goat Anti-Rabbit Serum MagBead

Capture rabbit antibody for purification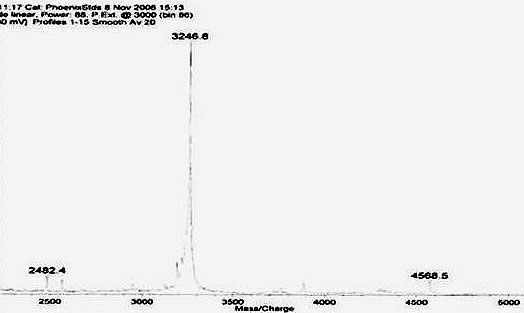 Rat plasma Ser3-(Des-Octanoyl) Ghrelin ( M.W. 3188.64 +/- 3) captured by Anti-Ghrelin Magbead and revealed by MALDI-TOF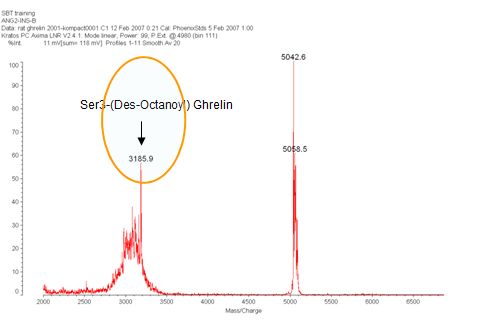 A RP-HPLC and micro-sequence to identify neuronostatin peptide from the somatostatin gene.
Neuronostatin Encoded by the Somatostatin Gene Regulates Neuronal, Cardiovascular, and Metabolic Functions.
Faster Immunoassay, Validate Results
Only 5 to 40 µl of sample are necessary for accurate peptide level determination using Phoenix's new Magnetic Bead RIA kits,?providing the key to research that was previously impossible. This versatile and convenient method does not require extraction and is ideal for samples from mice, infant subjects, CSF.
| | |
| --- | --- |
| | --No Extraction Necessary |
| | --Only 5 to 40 µl required |
| | --Faster than traditional RIA |
| | --Measure serum, plasma, CSF, tissue extract, and more |
| | --Inter- and intra-assay variation of less than 10% |
| | --75%-100% Recovery |
| | --Conventional gamma-counter |
Once samples are enriched, they are eluted from the Magbeads and spotted directly onto a MALDI plate with matrix. When used with the MALDI-TOF mass spectrometer, Magbead-enriched samples are analyzed rapidly and reproducibly in a fully automated format. Shown here is an example of ghrelin profile analysis from mouse plasma without DPP IV inhibitor by using Anti-Ghrelin Magbead and revealed using MALDI-TOF.