N-Acetyl-Pro-Gly-Pro (acPGP)
A biomarker and therapeutic target for neutrophilic inflammatory diseases

A novel peptide CXCR ligand derived from extracellular matrix degradation during airway inflammation
We describe the tripeptide neutrophil chemoattractant N-acetyl Pro-Gly-Pro (PGP), derived from the breakdown of extracellular matrix (ECM), which shares sequence and structural homology with an important domain on alpha chemokines. PGP caused chemotaxis and production of superoxide through CXC receptors, and administration of peptide caused recruitment of neutrophils (PMNs) into lungs of control, but not CXCR2-deficient mice. PGP was generated in mouse lung after exposure to lipopolysaccharide, and in vivo and in vitro blockade of PGP with monoclonal antibody suppressed PMN responses as much as chemokine-specific monoclonal antibody. Extended PGP treatment caused alveolar enlargement and right ventricular hypertrophy in mice. PGP was detectable in substantial concentrations in a majority of bronchoalveolar lavage samples from individuals with chronic obstructive pulmonary disease, but not control individuals. Thus, PGP's activity links degradation of ECM with neutrophil recruitment in airway inflammation, and PGP may be a biomarker and therapeutic target for neutrophilic inflammatory diseases.

Weathington N.M. , et al. Nature Medicine 12, 317 - 323 (2006)
The matrix degrades, neutrophils invade
A peptide fragment derived from extracellular matrix collagen attracts inflammatory cells by mimicking the activity of a chemokine—potentially contributing to lung injury.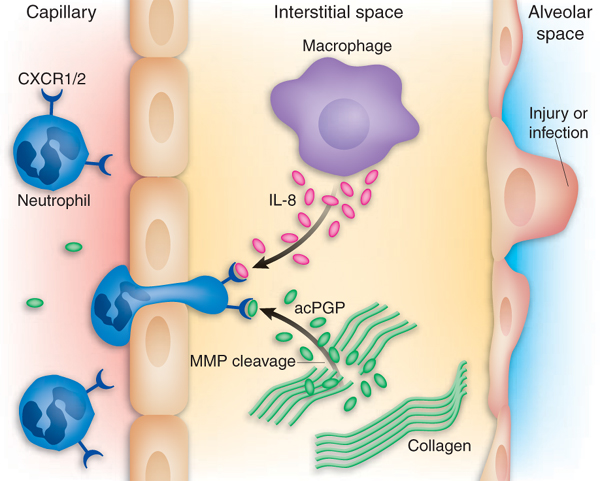 Send in the neutrophils.
Early in an inflammatory response, neutrophils react to CXC chemokines, such as IL-8 in people, by following the chemotatic gradient and emigrating into the interstitial space. This chemotatic response depends upon the ability of IL-8 to engage either of its two receptors, CXCR1 and CXCR2. Proteolytic cleavage of collagen, presumably by matrix metalloproteinases (MMPs) and subsequent acetylation, generates an acetylated tripeptide, acPGP, which mimics key sequences of IL-8, stimulates CXCR1 and CXCR2 and prolongs influx of neutrophils.
Peter M Henson & R William Vandivier. Nature Medicine,12, 280 - 281 (2006)


(a) The PGP peptide, but not the PGG control peptide causes an increase in airway PMNs after intratracheal administration (250

g in 50

l) to 6–8-week-old C57 BL/6J mice; BAL and differential cell counts were performed 5 h after treatment (*P < 0.05 compared to PBS group). (b) PGP is a chemoattractant of human PMNs in an in vitro transwell chemotaxis assay, whereas PGG had no chemotactic activity; 2

105 PMNs were placed on one side of a 3

m filter with peptides present on the other side, and migrated cells were photographed and quantified after 1 h at 37 °C. (c) Dose-response curves for human PMNs (open squares), HL-60 cells (filled squares), bone marrow–derived mouse PMNs (open triangles) and mouse peritoneal PMNs (filled triangles).
Weathington N.M. , et al. Nature Medicine 12, 317 - 323 (2006)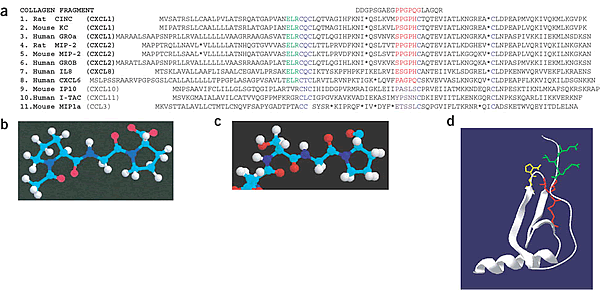 Structural homology between PGP and the neutrophil chemokines.
(a) Alignment of a collagen fragment isolated from arthritic inflammatory tissue and possessing the PGP sequence19 with similar sequences contained in neutrophil-attracting ELR+ CXC chemokine family members. Chemokines shown are rat, mouse and human CXCL1, CXCL2 and CXCL3 and human CXCL8 and representative ELR- CXCLs and CCLs lacking activity on PMN CXCR1 and CXCR2. ELR sequences are green, the GP-containing sequences from collagen and the chemokines are red, and structural cysteines are blue. The nuclear magnetic resonance imaging solution structure (b) of PGP (referring to the N-Acetyl-PGP molecule22) is similar to the SGP motif found in the structure of human IL-8 (ref. 21) and related chemokines (c). This motif is required for chemokine binding and neutrophil activation20, and is shown (d; yellow) to be solution accessible in the IL-8 structure and close in space to the important ELR motif (green) present in the neutrophil specific CXC chemokines. For reference, the structural cysteines are shown in red.
Weathington N.M. , et al. Nature Medicine 12, 317 - 323 (2006)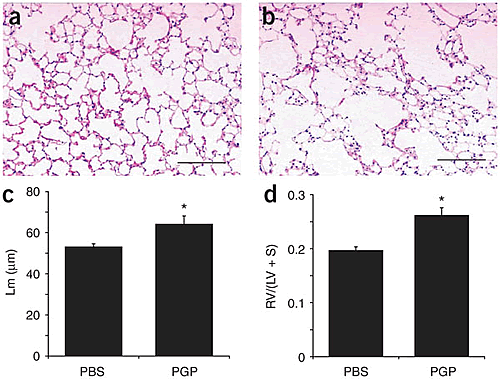 Extended exposure to PGP causes alveolar enlargement and right ventricular hypertrophy. C57Bl/6 mice were intranasally treated with PGP (250

g in PBS) or PBS twice weekly for 12 weeks, and evaluated 2 weeks after the last treatment. H&E-stained lung sections from PBS- (a) and PGP-treated mice (b) were evaluated for alveolar enlargement. Scale bar, 100

m. (c) A 21% increase in Lm in the PGP-treated group (*P = 0.021). (d) Right ventricular (RV) mass is proportionally greater than the rest of the lower heart (that is, the left ventricle (LV) and the septum (S)) for PGP-treated mice than for PBS-treated controls (22%, *P = 0.025).
Weathington N.M. , et al. Nature Medicine 12, 317 - 323 (2006)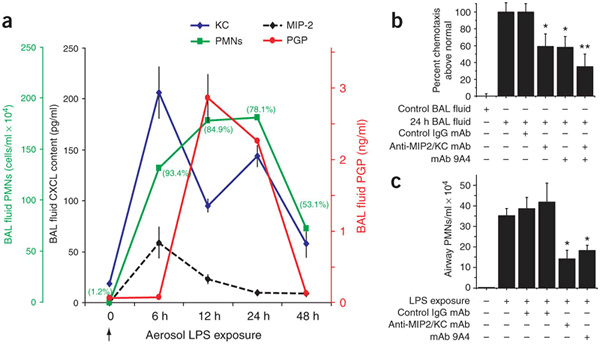 Kinetics of neutrophil influx, CXC chemokine and PGP production in the mouse airway after exposure to aerosolized LPS (a). Monoclonal antibodies against KC and MIP-2 or PGP inhibit in vitro PMN chemotaxis caused by bronchoalveolar lavage fluids from LPS-exposed mice (b), and decrease the in vivo neutrophil burden in lungs of LPS-exposed BALB/c mice (c). (a) Mice were exposed to 100

g/ml aerosolized LPS for 1 h at time 0. BAL samples (n = 3 per time point) were collected and analyzed for neutrophil number (green squares, outer left axis; numbers are percentage of PMNs of total cells); KC and MIP-2 chemokine concentrations by ELISA (blue diamonds and black triangles, respectively, inner left axis); and PGP (red circles, right axis) by ESI-LC-MS/MS. (b) Twenty-four hours after LPS exposure, BAL samples were collected, and supernatants were incubated for 1 h with monoclonal antibodies against KC (50

g/ml), MIP-2 (50

g/ml), PGP (9A4, 5

g/ml) or isotype control antibody (50

g/ml) before PMN chemotaxis. Scale shows activity of BAL samples from LPS-exposed mice versus LPS-naive mice, showing mean

s.e.m. from six mice. (c) Mice exposed to aerosolized LPS were intratracheally administered PBS, isotype control monoclonal antibody (50

g total), monoclonal antibody against MIP-2 and KC (25

g each) or monoclonal antibody 9A4 (30

g) in 35

l PBS 1 and 10 h after LPS. PMNs were counted from 24 h BAL samples (n = 3 per group); isotype controls IgG2a (third bar) and IgG1 (fourth bar) are controls for MIP2- and KC-specific antibody and 9A4 antibody, respectively. *P < 0.05, ** P < 0.01 compared to positive controls by ANOVA for b and c.
Weathington N.M. , et al. Nature Medicine 12, 317 - 323 (2006)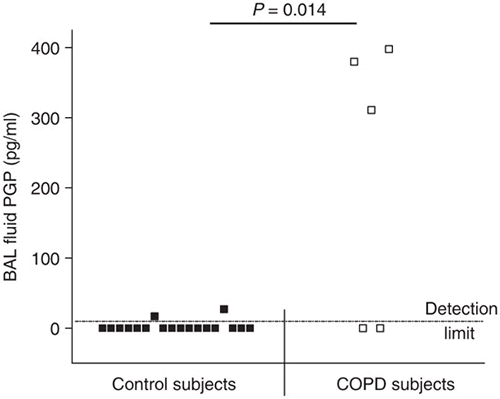 BAL fluid samples from individuals with COPD contain elevated levels of PGP. BAL samples from humans were assayed for PGP using ESI-LC-MS/MS. Incidence of PGP is greater among individuals with COPD (3 of 5) than controls (2 of 18, P = 0.014), and detected levels of PGP are higher in individuals with COPD (363) than controls (22; P = 0.015). Weathington N.M. , et al. Nature Medicine 12, 317 - 323 (2006)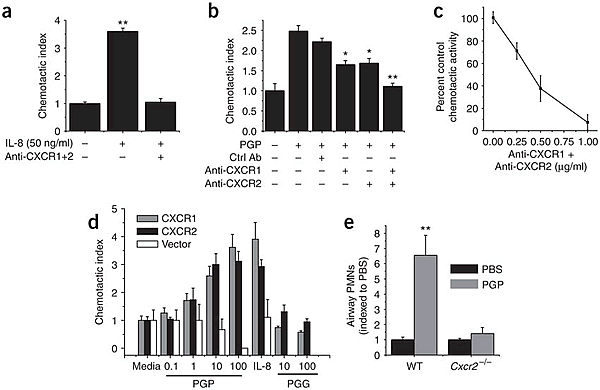 PMN chemotaxis to PGP is dependent on the CXC chemokine receptors
. (
a
,
b
) PMNs were incubated with 1

g/ml monoclonal antibody against CXCR1, CXCR2, both or 2

g/ml IgG2a isotype control for 1 h at 22 °C before assaying chemotaxis to 50 ng/ml IL-8 (
a
) or 100

g/ml PGP (
b
). (
c
) The dose-response curve for the inhibition of PGP-mediated PMN chemotaxis with monoclonal antibodies against both CXCR1 and CXCR2. (
d
) RBL cells stably transfected to express CXCR1 or CXCR2 migrate to PGP (

g/ml as indicated,
P
< 0.05 for CXCR1 and CXCR2 at 10 and 100) and IL-8 (50 ng/ml), but not PGG, whereas vector-transfected controls are unresponsive to either ligand. (
e
)
Cxcr2-/-
mice and BALB/c control mice (
n
= 5 per group) were intratracheally administered 250

g PGP in 50

l PBS or PBS alone. BAL and cell counts were performed 5 h later; because
Cxcr2-/-
mice are smaller than controls, PMN counts are shown indexed to the values for PBS-treated mice from each group, rather than absolute PMN numbers, which are (left to right) 5.3 and 34.9 for wild-type mice and 2.1 and 2.4 for knockout mice (PMN

104 per ml BAL fluid). *
P
< 0.05, **
P
< 0.01 compared to controls by
t
-tests in
a
,
d
and
e
; ANOVA in
b
.
Weathington N.M. , et al. Nature Medicine 12, 317 - 323 (2006)