Dendroaspis natriuretic peptide (DNP)
A therapeutic synthetic Natriuretic Peptide (ANP)
Dendroaspis natriuretic peptide (DNP), a recently discovered peptide, shares structural similarity to the other known natriuretic peptides, ANP, BNP, and CNP. Studies have reported that DNP is present in human and canine plasma and atrial myocardium and increased in plasma of humans with congestive heart failure (CHF). In addition, synthetic DNP is markedly natriuretic and diuretic and is a potent activator of cGMP in normal animals.

These studies report the acute intravenous actions of synthetic DNP in experimental severe CHF and suggest that on the basis of its beneficial properties, DNP may have potential as a new intravenous agent for the treatment of decompensated CHF.

Lisy O, et al. Hypertension. 2001 Apr;37(4):1089-94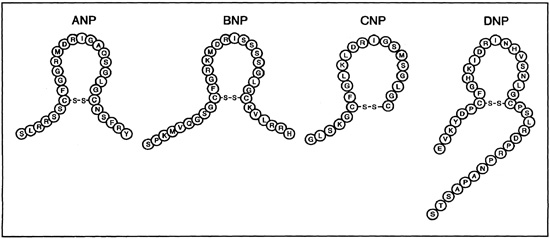 Amino acid structures of atria1 (ANP, 28 amino acids), brain (BNP, 32 amino acids), C-type (CNP, 22 amino acids), and Dendroaspis (DNP, 38 amino acids) natriuretic peptides with similar 17-amino acid disulfide ring structures.

SCHIRGER J. A. , et al. Mayo Clin Proc 1999;74:126-130
| | |
| --- | --- |
| | Singh G, et al. Circ Res. 2006 Jun 15; [Epub ahead of print] |
| | |
| --- | --- |
| | Pan S. C. et al. Am J Physiol Heart Circ Physiol 286: H2213-H2218, 2004 |
| | |
| --- | --- |
| | Khurana VG, et al. Neurosurgery. 2004 Jul;55(1):69-75 |
| | |
| --- | --- |
| | Chen HH, et al. J Am Coll Cardiol. 2002 Sep 18;40(6):1186-91 |
| | |
| --- | --- |
| | Best PJ, et al. Cardiovasc Res. 2002 Aug 1;55(2):375-84 |
| | |
| --- | --- |
| | Lisy O, et al. Hypertension. 2001 Apr;37(4):1089-94 |
| | |
| --- | --- |
| | Lisy O, et al. Kidney Int. 1999 Aug;56(2):502-8 |
| | |
| --- | --- |
| | Schirger JA, et al. Mayo Clin Proc. 1999 Feb;74(2):126-30 |
Immunohistochemical studies were performed by the indirect immunoperoxidase method, as described previously. Tissues were immediately fixed with 10% buffered formalin and embedded in paraffin; sections 6 ¦Ìm thick were cut and mounted on silanized glass slides. The slides were incubated at 60¡ãC and deparaffinized with graded concentrations of xylene and ethanol. To block the activity of endogenous peroxidase, we incubated the slides with 0.6% hydrogen peroxide in methanol for 20 minutes at room temperature. After being washed, sections were incubated in 5% goat serum (Dako Corp., Carpinteria, California) for 10 minutes at room temperature to reduce non-specific background staining, and they were then incubated with polyclonal rabbit anti-DNP antiserum (Catalog No.: H-013-01) (Phoenix Pharmaceuticals) at a dilution of 1:500 (in normal goat serum) in humidified chambers for 24 hours at room temperature. All slides were incubated for 30 minutes with a second antibody-horseradish peroxidase conjugate (BioSource, Camarillo, California). The reaction was visualized by incubating the sections with freshly prepared reagent that contained 3¡ä-amino-9¡ä-ethylcarbazole (Sigma Chemical Company, St. Louis, Missouri) in dimethylformamide and sodium acetate. The sections were counter-stained with hematoxylin, coverslipped, and reviewed with use of an Olympus microscope.

Six independent observers, without knowledge of the respective groups from which these tissues originated, reviewed these sections. The presence of DNP-LI was quantified on the basis of the following scale of staining: 0=none; 1=minimal density; 2=mild density; 3=moderate density; and 4=maximal density. Control sections were stained with 1% non-immune goat serum.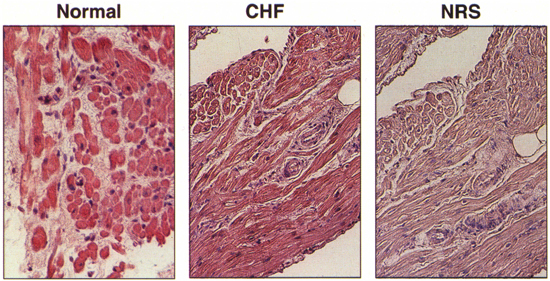 Immunostaining for Dendroaspis natriuretic peptide. Left, Normal human heart. Middle, Human with congestive heart failure (CHF). Right, Staining with nonimmune response serum (NRS) from same heart as shoen in middle panel. (Original magnification, ¡Á400.)

SCHIRGER J. A. , et al. Mayo Clin Proc 1999;74:126-130

Immunohistochemical staining for DNP in canine normal and CHF atrium and ventricle. Representative sample of atrial and ventricular myocardium from normal (n=4) and CHF dogs (n=4) not exposed to exogenous DNP. NGS indicates normal goat serum (magnification x400).

Lisy O, et al. Hypertension. 2001 Apr;37(4):1089-94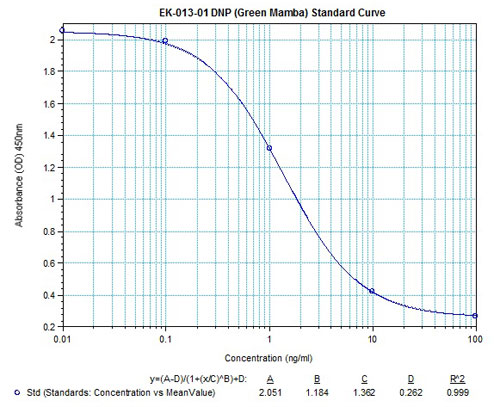 Blood samples for the DNP assay were collected in chilled tubes that contained ethylenediaminetetraacetic acid and immediately placed on ice. After centrifugation at 2,500 rpm at 4¡ãC for 10 minutes, the plasma was decanted and stored at ¨C20¡ãC until analyzed. Plasma (1 mL) was extracted on C-8 Bond Elute cartridges, which were washed with methanol and distilled water. DNP was eluted with 95% methanol that contained 1% trifluoroacetic acid. Concentrated eluates were then assayed with a specific and sensitive radioimmunoassay for DNP (Catalog No.: RK-013-01) (Phoenix Pharmaceuticals, Belmont, California).

Samples and standards were incubated with rabbit anti-DNP at 4¡ãC for 24 hours. 125I-labeled DNP (100 ¦ÌL) was added, and incubation was continued for another 24 hours at 4¡ãC. Free and bound fractions were then separated by addition of a second antibody and normal rabbit serum and centrifuged. Radioactivity of the bound fraction was measured with a gamma counter. The minimal detectable level for this assay is 0.5 pg per tube, and the 50% inhibitory concentration of the standard curve was 29.0 pg. Recovery was 83.0¡À1.8%, and intra-assay variation was 10.0¡À3.2%. No cross-reactivity of the antibody to DNP was noted with ANP, BNP, CNP, or endothelin.

Box-plot of plasma Dendroaspis natriuretic peptide-like immunoreactivity in normal human volunteers (N=19) and humans with heart failure (N=19). Middle horizontal lines=means; vertical bars=standard error of mean.

SCHIRGER J. A. , et al. Mayo Clin Proc 1999;74:126-130
The concentration of cDNP in conditioned media was measured by a modified radioimmunoassay method previously described . Briefly, 1 ml conditioned media was applied to the prepared C-8 Bond-Elut cartridge, and 2 ml of 90% methanol in 1% trifluoroacetic acid were used to elute the bound material from cartridge. The eluate was dried and reconstituted in 300 ¦Ìl of assay buffer and ready for radioimmunoassay using the kit (Catalog No.: RK-013-01) from Phoenix Pharmaceuticals (Mountain View, CA). Samples and standards were incubated with anti-DNP antibody at 4¡ãC for 24 h. 125I-labeled DNP was added and incubated for 24 h. Free and bound fractions were separated by the addition of a second antibody and normal rabbit serum and centrifuged. Radioactivity of the bound fraction was measured with a gamma counter. A standard curve was generated and used to calculate the concentrations of the unknown samples (reported in pg/ml).

DNP-RIA displacement curve using diluted atrial extracts. Curve of ; represents DNP standard. Curve of ; parallel to standard curve represents atrial extracts diluted at 1:2, 1:4, and 1:8. DNP-LI indicates DNP-like immunoreactivity; B/Bo, (average net counts of standard or sample/average net counts of zero standard)x100.

Lisy O, et al. Hypertension. 2001 Apr;37(4):1089-94
Schematic representation of human brain natriuretic peptide (BNP) cDNA and the chimeric constructs generated. BDNP-1 contains the signal peptide sequence of BNP upstream of the "humanized" dendroaspis natriuretic peptide (DNP) coding sequence. BDNP-2 contains the entire prepropeptide sequence from BNP upstream of the "humanized" DNP coding sequence. Each was subcloned into an eukaryotic expression plasmid containing the cytomegalovirus promoter/enhancer.

Vesely et al. Four cardiac hormones eliminate 4-fold more human glioblastoma cells than the green mamba snake peptide

Cancer Lett. 2007 Aug 28;254(1):94-101.

Best et al. Dendroaspis natriuretic peptide relaxes isolated human arteries and veins.

Cardiovasc Res. 2002 Aug 1;55(2):375-84.


Chen et al. Natriuretic peptide receptors and neutral endopeptidase in mediating the renal actions of a new therapeutic synthetic natriuretic peptide dendroaspis natriuretic peptide.

J Am Coll Cardiol. 2002 Sep 18;40(6):1186-91.

Lainchbury et al. Actions of a novel synthetic natriuretic peptide on hemodynamics and ventricular function in the dog.

Am J Physiol Regul Integr Comp Physiol. 2002 Apr;282(4):R993-8.


Lisy et al. Therapeutic actions of a new synthetic vasoactive and natriuretic peptide, dendroaspis natriuretic peptide, in experimental severe congestive heart failure.
%DNP%