Hormone Overview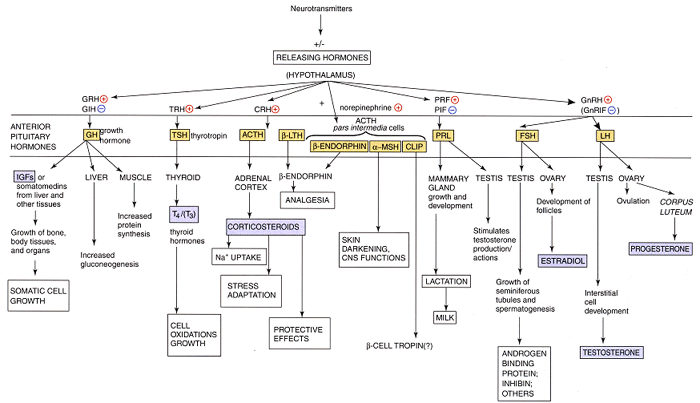 Role of Portal System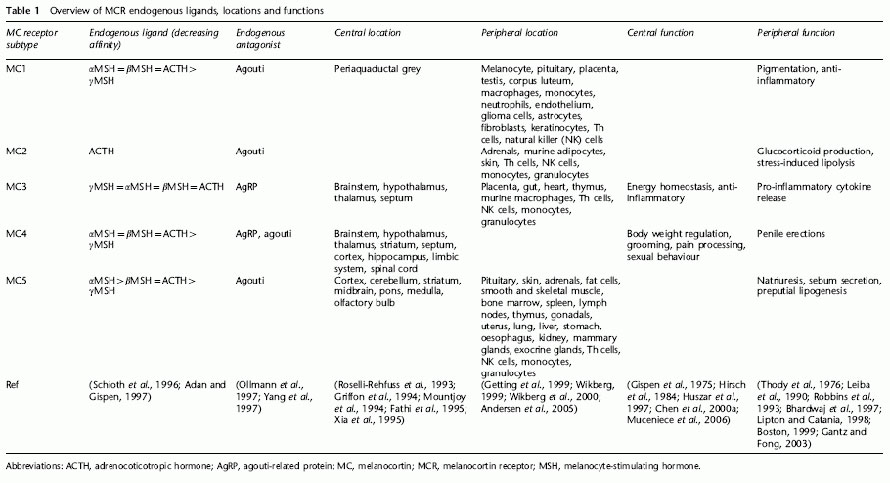 R A H Adan et al. The MC4 receptor and control of appetite. British Journal of Pharmacology (2006) 149, 815–827
We found that PRCP is mainly expressed in the lateral hypothalamic Hcrt and MCH neurons. These neurons project to various areas of the hypothalamus, such as the PVN, where α-MSH (1–13) terminals strongly innervate MC4R-expressing neurons. It is our hypothesis that PRCP, once released from the Hcrt and/or MCH terminals, will degrade α-MSH, thus increasing the antagonist effect of agouti-related protein (AgRP) and enhancing the orexigenic tone of the system. In support of this, congenic mice and PRCPgt/gt mice are leaner than the wild-type controls. GHS-R/LR, growth hormone secretagogue receptor/leptin receptor; NPY, neuropeptide Y.

Wallingford et al. J Clin Invest. 2009 Aug 3;119(8):2291-2303.
Links to publications that use this peptide:
Olszewski et al. α-Melanocyte stimulating hormone and ghrelin: Central interaction in feeding control
Peptides. 2007 Oct;28(10):2084-9.

Bomberg et al. Functional interaction between nociceptin/orphanin FQ and α-melanocyte-stimulating hormone in the regulation of feeding.
Peptides. 2006 Jul;27(7):1827-34.

Helwig et al. PC1/3 and PC2 gene expression and post-translational endoproteolytic pro-opiomelanocortin processing is regulated by photoperiod in the seasonal Siberian hamster (Phodopus sungorus).
J Neuroendocrinol. 2006 Jun;18(6):413-25.

Kim et al. C-terminal part of AgRP stimulates insulin secretion through calcium release in pancreatic β Rin5mf cells.
Neuropeptides. 2005 Aug;39(4):385-93.

Zou et al. α-melanocyte stimulating hormone protects against H2O2-induced inhibition of wound restitution in IEC-6 cells via a Syk kinase- and NF-κβ-dependent mechanism.
Shock. 2004 Nov;22(5):453-9.

Sasaki et al. Suppression of melanogenesis by induction of endogenous intracellular metallothionein in human melanocytes.
Exp Dermatol. 2004 Aug;13(8):465-71.

Zeh et al. Gain-of-function somatic cell lines for drug discovery applications generated by homologous recombination.
Assay Drug Dev Technol. 2003 Dec;1(6):755-65.

Lassalle et al. Effects of melanogenesis-inducing nitric oxide and histamine on the production of eumelanin and pheomelanin in cultured human melanocytes.
Pigment Cell Res. 2003 Feb;16(1):81-4.

Kim et al. Effects of melanocortin receptor ligands on thyrotropin-releasing hormone release: evidence for the differential roles of melanocortin 3 and 4 receptors.
J Neuroendocrinol. 2002 Apr;14(4):276-82.

Howard et al. Identification of receptors for neuromedin U and its role in feeding.
Nature. 2000 Jul 6;406(6791):70-4.

Kwon et al. Reduced abundance of aquaporins in rats with bilateral ischemia-induced acute renal failure: prevention by α-MSH
Am J Physiol. 1999 Sep;277(3 Pt 2):F413-27.

Chiao et al. α-melanocyte-stimulating hormone protects against renal injury after ischemia in mice and rats.
J Clin Invest. 1997 Mar 15;99(6):1165-72.