New VGF-derived peptides:
TPGH, TLQP-10, TLQP-11, TLQP-21 and TLQP-30
The impact of stress is widely recognized in the etiology of multiple disorders. In particular, psychological stress may increase the risk of cardiovascular, metabolic, immune, and mood disorders. Several genes are considered potential candidates to account for the deleterious consequences of stress and recent data point to role of Vgf. VGF mRNA is abundantly expressed in the hypothalamus, where it has been involved in metabolism and energy homeostasis; more recently a link between VGF-derived peptides and mood disorders has been highlighted. The following experiments were performed to address the contribution of the VGF-system to stress induced changes in mice: the distribution of VGF immuno-reactivity in hypothalamic nuclei and its modulation by social stress; the role of VGF-derived peptide TLQP-21 in plasma catecholamine release induced by acute restraint stress (RS); the efficacy of chronic TLQP-21 in a mouse model of chronic subordination stress (CSS). VGF fibers were found in high density in arcuate, dorsomedial, and suprachiasmatic and, at lower density, in lateral, paraventricular, and ventromedial hypothalamic nuclei. Central administration of either 2 or 4mM TLQP-21 acutely altered the biphasic serum epinephrine release and decreased norepinephrine serum levels in response to RS. Finally, 28-day of 40μg/day TLQP-21 treatment increased CSS-induced social avoidance of an unfamiliar conspecific. Overall these data support a role for TLQP-21 in stress responses providing a promising starting point to further elucidate its role as a player in stress-related human pathologies.

Razzoli M et al., Behav Brain Res. 2012 Apr 15;229(2):333-9. Epub 2012 Jan 24.
VGF mRNA and its precursor-derived products are selectively expressed in certain neurons and promptly respond to neurotrophins and to neural/electrical activity. Proteomic studies have previously revealed a reduction in some VGF peptides in the cerebrospinal fluid of patients affected by Alzheimer's disease and other conditions, suggesting their potential diagnostic and clinical significance. As the presence of VGF peptides within the human cortex has been somewhat elucidated, they were studied postmortem in the frontal, parietal, and temporal cortex areas of control subjects and patients affected by Parkinson's disease, and in parietal cortex samples from patients with Alzheimer's disease. We raised antibodies to the C-/N-terminal portions of the proVGF precursor protein, to the TPGH and TLQP sequences and to the neuroendocrine regulatory peptide (NERP)-1, all used for enzyme-linked immunosorbent assay coupled with gel chromatography and for immunohistochemistry. In the control brain samples, the levels of TPGH and C-terminus peptides were about 130-200 and 700-2000 pmol g⁻¹, respectively, the N-terminus and NERP-1 peptides were less represented (about 10-30 and 4-20 pmol g⁻¹, respectively), and the TLQP peptides were below detection limits. Upon gel chromatography, the VGF antisera mainly revealed small molecular weight forms (i.e. about 0.8-1.3 kDa), whereas VGF immunolocalisation was found within different types of neuron in rat and bovine brain cortices. In the Parkinson's disease samples, a clear-cut decrease was revealed in the parietal cortex only, exclusively for TPGH and NERP-1 peptides, whereas in the Alzheimer's disease samples, a reduction in all of the VGF peptides was shown. The results suggest the involvement of VGF in the physiological or pathophysiological mechanisms occurring in the parietal cortex of patients with Parkinson's and Alzheimer's diseases.

Cocco C et al., J Anat. 2010 Dec;217(6):683-93. doi: 10.1111/j.1469-7580.2010.01309.x. Epub 2010 Oct 12.
| | |
| --- | --- |
| | Possenti R et al., Biochem J. 2011 Aug 31. [Epub ahead of print] |
| | |
| --- | --- |
| | Brancia C, et al. J Endocrinol. 2010 Dec; 207 (3): 329-41. Epub 2010 Sep 27 |
| | |
| --- | --- |
| | Severini, et al. Br J Pharmacol. Jul, 2009; 157(6):984-93. Epub 2009 May 19. PMID: 19466987 |
| | |
| --- | --- |
| | Bartolomucci A, et al. Proc Natl Acad Sci U S A. 2006 Sep 26;103(39):14584-9. |
| | |
| --- | --- |
| | Hahm S., et al. The Journal of Neuroscience, August 15, 2002, 22(16):6929-6938 |
| | |
| --- | --- |
| | Pinilla., et al. Am J Physiol Endocrinol Metab., Feb 8, 2011, Epub ahead of print, PMID: 21304062 |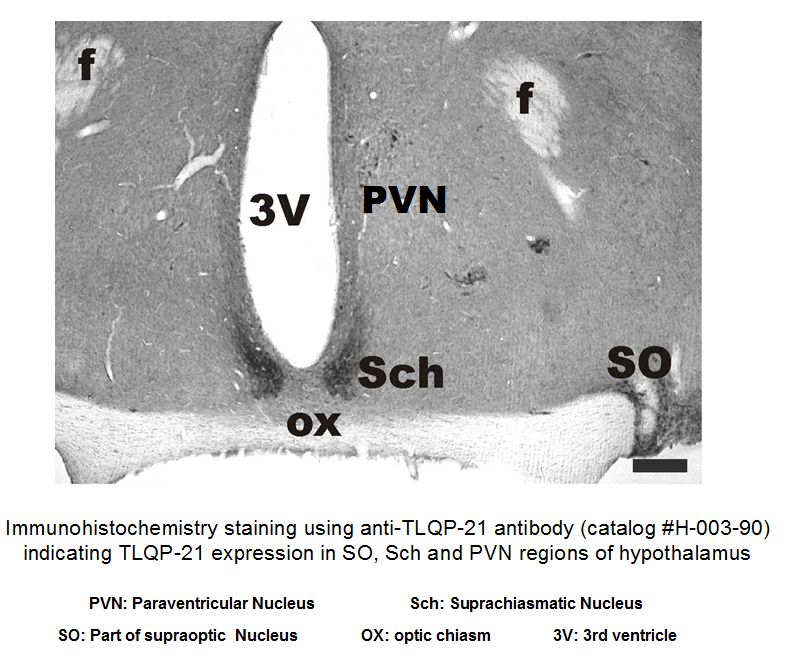 Linear Range: 34.8 ~ 550 pg/ml
5 times more sensitive than normal EIA kit

Cross-Reactivity

TLQP-21 (Rat, Mouse)
100%
TLQP-21 (Human)

61%

TLQP-21 (Rat)

29%

α-ANP (Human, Rat, Mouse, Porcine)

0%

AVP (Human, Rat, Mouse, Porcine)

0%

BNP-32 (Human)

0%

CNP-22 (Human, Rat, Mouse, Porcine )

0%

VIP (Human,Rat,Porcine)

0%

Adrenomedullin(1-52) (Human)

0%

PACAP 38 (Human, Rat, Ovine)

0%

Endothelin-1 (Human, Rat, Mouse, Canine, Bovine, Porcine)

0%

Prepro-VGF (586-615) /AQEE-30 (Human)

0%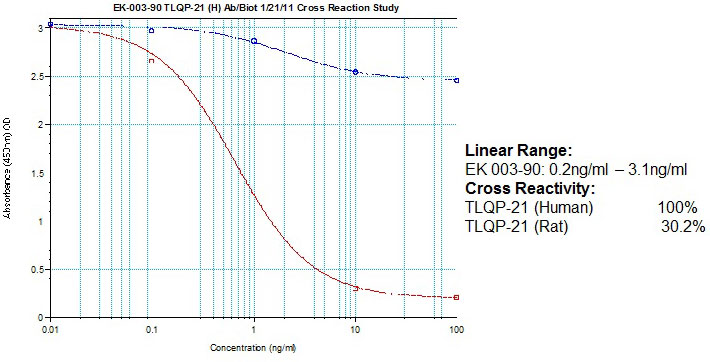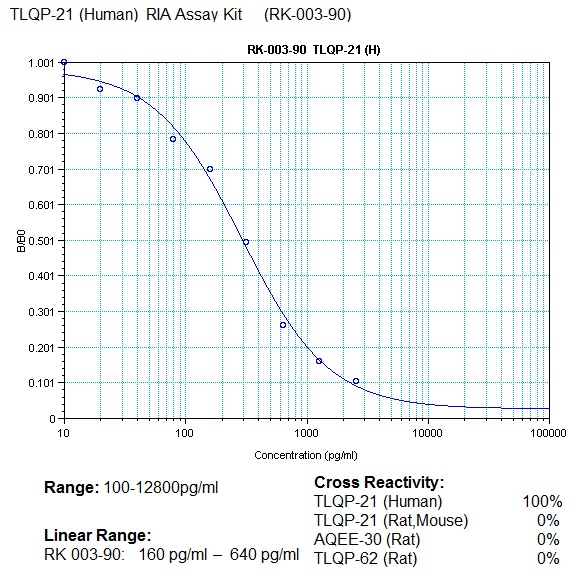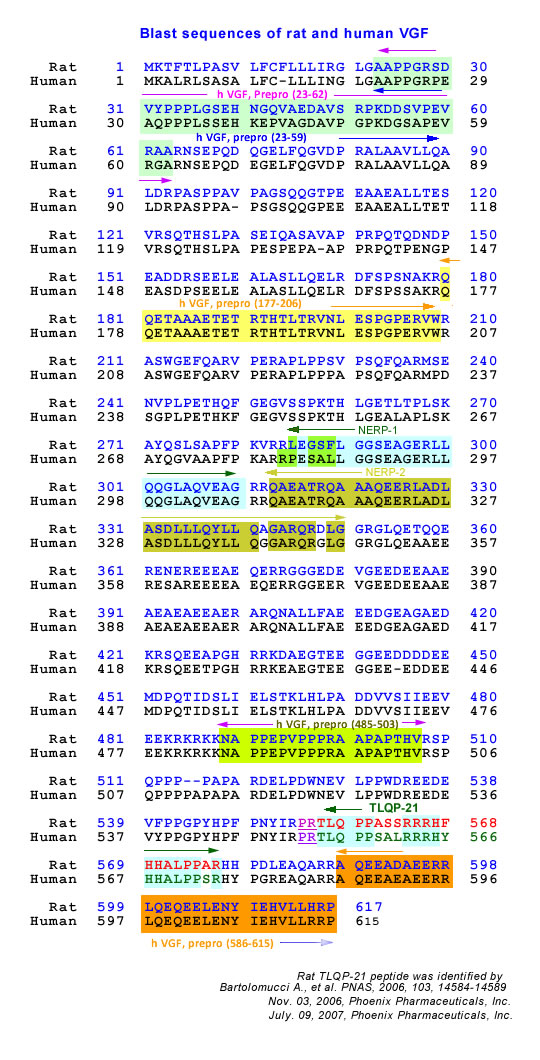 VGF;NERP-2-TLQP-62;NERP_3_4;AQEE-30
%TPGH%;%TLQP%