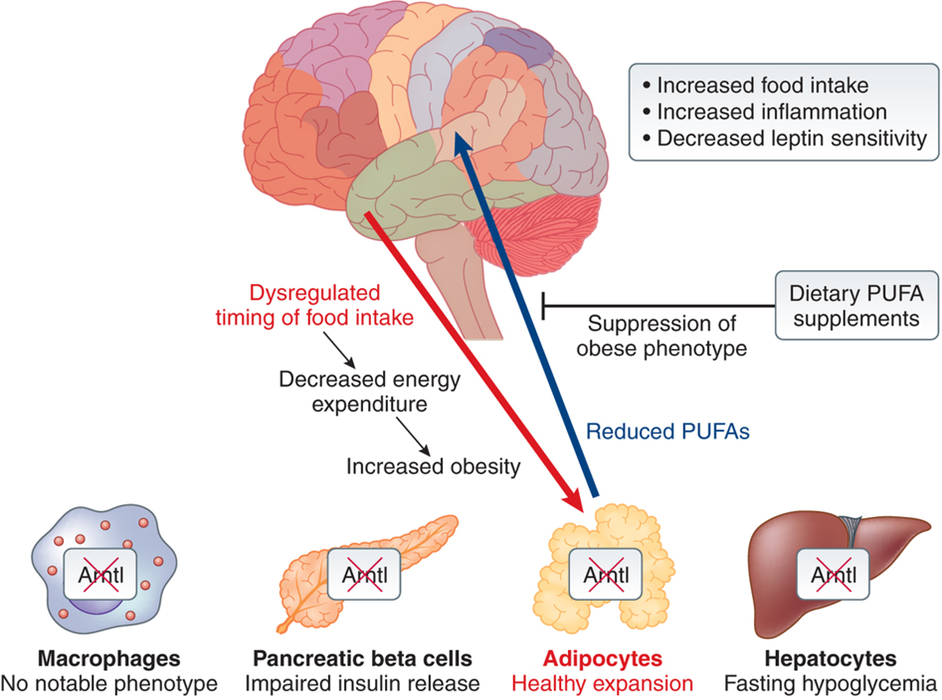 Study using cell type-specific knockouts of Arntl in mice have shown that hepatocytes lacking Arntl fail to adjust to diurnal variability of glucose availability, whereas pancreatic beta cells lacking Arntl show impaired insulin release. Paschos et al. now find that lack of Arntl in adipocytes leads to changes in diurnal food intake patterns due to changes in plasma concentrations of PUFAs, thereby establishing a PUFA-based communication axis between the adipocyte and crucial regulatory centers in the hypothalamus. The net result of this is an overall increase in fat mass and, ultimately, obesity.

Ingrid Wernstedt Asterholm & Philipp E Scherer, Nature Medicine 18, 1738–1740 (2012) and Paschos et al. Nature Medicine 18, 1768–1777 (2012).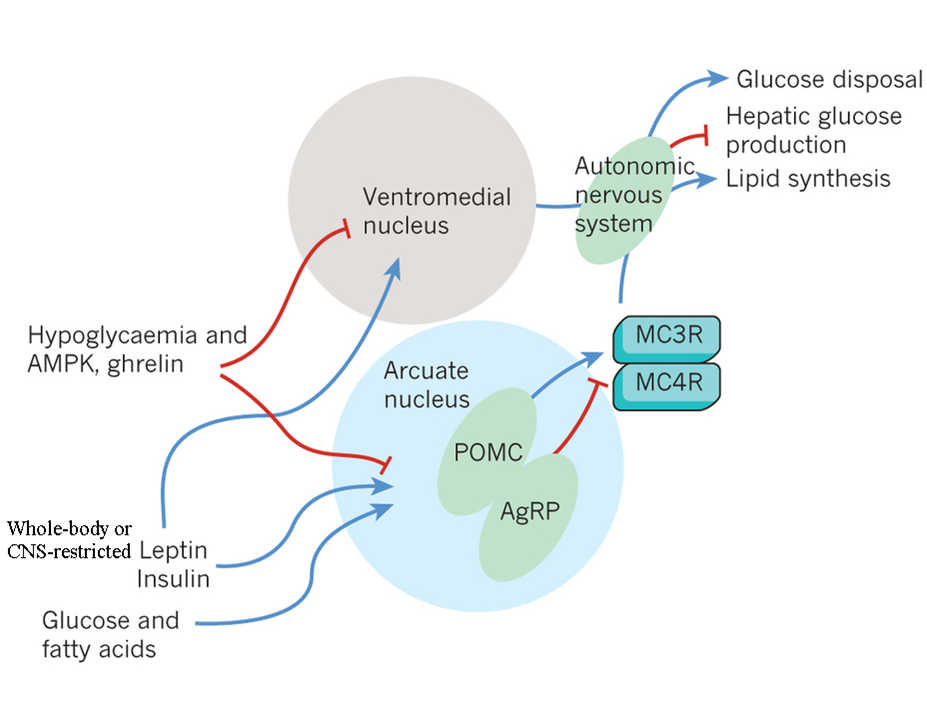 Recent findings have implicated medial basal hypothalamic nuclei (the arcuate and ventromedial nucleus) in the control of metabolism. Leptin, secreted from adipose tissue as an indicator of long-term energy stores, and insulin, reflective of recent food intake in addition to adipose stores, function in these nuclei to modulate the autonomic nervous system to increase hepatic glucose production and peripheral glucose disposal. Other signals of energy surfeit, including glucose and fatty acids, act in concert with these signals, whereas signals of energy deficit (such as hypoglycaemia and activation of AMP-dependent protein kinase (AMPK) and ghrelin) act in the opposite manner. Although the ventromedial nucleus neural pathways that mediate the responses to these stimuli have not been molecularly characterized, the arcuate nucleus melanocortin system (which is composed of pro-opiomelanocortin (POMC) neurons that act in part through melanocortin-3 receptor (MC3R) and melanocortin-4 receptor (MC4R), and is antagonized by Agouti-related protein (AgRP)-producing neurons) contributes.

Martin G. Myers jr. & David P. Olson Nature 2012 Nov. 15; 491, 357-363.
The pro-opiomelanocortin (POMC) neurons of the arcuate nucleus produce melanocortin-receptor agonists, whereas Agouti-related protein (AgRP)-producing neurons antagonize melanocortin action. The two predominant CNS melanocortin receptors, MC3R and MC4R, mediate distinct effects. MC3R is expressed at high levels in the arcuate nucleus and ventromedial nucleus, and mainly controls the conversion of food to fat, nutrient partitioning and build-up of lean mass, whereas MC4R predominantly mediates effects on food intake. The specific neurons that express MC4R are unclear; however, genetic data suggest important roles for the paraventricular hypothalamic (PVH) nucleus and amygdala MC4R in these effects, whereas other data, including pharmacological data, suggest roles for MC4R at other sites such as the ventromedial (VMH) nucleus, lateral hypothalamus (LH), dorsal motor nucleus of the vagus (DMV) and nucleus tractus solitarius (NTS), as well as the lateral parabrachial nucleus. In addition to mediating metabolic effects attributable to body weight, MC4R mediates the control of insulin secretion through the dorsal motor nucleus of the vagus and energy expenditure through the intermediolateral cell column (IML) of the spinal cord. MC4R also contributes to lipid handling in the body, but the MC4R-expressing site or sites that mediate these effects remain undefined.

Martin G. Myers jr. & David P. Olson Nature 2012 Nov. 15; 491, 357-363.