Osteoblast activating peptide (OBAP) was previously reported to be expressed in the rat stomach and to have a vital role in osteogenesis, but its distribution in rat stomach has not been determined. Thus, the aim of the present study was to identify the cell types expressing OBAP in the rat stomach. The stomachs of twelve 10-to-11-week-old male Jc1:SD rats were used. Samples were collected for immunohistochemistry, immunoelectron microscopy and dot blot assay. Immunohistochemical investigation revealed that OBAP was distributed mainly in parietal cells without any expression in chief cells, X/A-like cells or enterochromaffin-like cells. Moreover, OBAP-immunopositive cells were observed mainly in the upper and lower parts of the gastric gland. Significantly high optical density of immunopositive cells was observed in the upper and lower gastric gland regions. The dot blot assay confirmed that OBAP is secreted by parietal cells and that it is present in the gastric gland lumen. Immunoelectron microscopy demonstrated that OBAP was confined to the mitochondrial inner membrane within parietal cells and that the number of mitochondria in the upper and lower parts of the gastric epithelium was significantly larger than the number in the middle part of the gastric epithelium. Based on the results, it was concluded that OBAP is mainly produced by mitochondria of parietal cells in the upper and lower parts of the gastric epithelium. Moreover, the presence of OBAP in the gastric gland lumen suggests an exocrine mechanism of release.

Noreldin AE, Sogabe M, Yamano Y, et al., Acta Histochem. 2015 Dec 10. pii: S0065-1281(15)30030-1. doi: 10.1016/j. acthis.2015.12.001. [Epub ahead of print]
Mitochondria are implicated in a variety of degenerative disorders and aging. Mitochondria are responsive to the oxygen in their environment, yet tissue culture is performed at atmospheric (21%) oxygen and not at physiological (1-11%) oxygen levels found in tissues. We employed imaging of mitochondrial probes, mass spectrometry, Western blots, and ATP assays of the human neuroblastoma cell-line SH-SY5Y and imaging of mitochondrial probes in human primary neurons under standard nonphysiological oxygen conditions (atmospheric) and under physiological oxygen levels in the nervous system to assess the impact of oxygen on mitochondrial function. SH-SY5Y cells cultured in physiological 5% oxygen exhibited the lowest reactive oxygen species (ROS) production, indicating that culture at 5% oxygen is favored; these results were mimicked in primary human cells. Mass spectrometric analysis revealed extensive mitochondrial proteomic alterations in SH-SY5Y cells based on oxygen culture condition. Among these, the rotenone-sensitive subunit of complex I NDUFV3 was increased in cells cultured at 5% oxygen. Rotenone is a Parkinson's disease-linked toxin, and correspondingly SH-SY5Y cells cultured at 5% oxygen also exhibited over 10 times greater sensitivity to rotenone than those cultured in atmospheric, 21%, oxygen. Our results indicate that neuronal mitochondria are responsive to oxygen levels and produce differential responses under different oxygen levels.

Villeneuve L1, Tiede LM, Morsey B, et al., J Proteome Res. 2013 Oct 4;12(10):4599-606. doi: 10.1021/pr400758d. Epub 2013 Sep 10.
A long-standing goal in bone loss treatment has been to develop bone-rebuilding anabolic agents that can potentially be used to treat bone-related disorders. To purify and isolate a novel anabolic that acts to osteoblasts, we monitored changes in intracellular calcium concentrations ([Ca(2+)]i). We identified a novel, 24-amino acid peptide from the rat stomach and termed this peptide osteoblast activating peptide (OBAP). Furthermore, we examined the effects of OBAP in osteoblasts. First, osteoblast differentiation markers (alkaline phosphatase [ALP], osteocalcin [OCN]) were analyzed using quantitative RT-PCR. We also examined the ALP activity in osteoblasts induced by OBAP. OBAP significantly increased the expression of osteoblast differentiation markers and the activity of ALP in vitro. Next, to address the in vivo effects of OBAP on bone metabolism, we examined the bone mineral density (BMD) of gastrectomized (Gx) rats and found that OBAP significantly increased BMD in vivo. Finally, to confirm the in vivo effects of OBAP on bone, we measured serum ALP and OCN in Gx rats and found that OBAP significantly increased serum ALP and OCN. Taken together, these results indicate that the novel peptide, OBAP, positively regulates bone formation by augmenting osteoblast differentiation. Furthermore, these results may provide a new therapeutic approach to anabolically treat bone-related disorders.

Fukushima, N., et al. Biochem Biophys Res Commun. 2010 Aug 12.
Mental retardation in Down syndrome (DS), the most frequent trisomy in humans, varies from moderate to severe. Several studies both in human and based on mouse models identified some regions of human chromosome 21 (Hsa21) as linked to cognitive deficits. However, other intervals such as the telomeric region of Hsa21 may contribute to the DS phenotype but their role has not yet been investigated in detail. Here we show that the trisomy of the 12 genes, found in the 0.59 Mb (Abcg1- U2af1) Hsa21 sub-telomeric region, in mice (Ts1Yah) produced defects in novel object recognition, open-field and Y-maze tests, similar to other DS models, but induces an improvement of the hippocampal-dependent spatial memory in the Morris water maze along with enhanced and longer lasting long-term potentiation in vivo in the hippocampus. Overall, we demonstrate the contribution of the Abcg1-U2af1 genetic region to cognitive defect in working and short-term recognition memory in DS models. Increase in copy number of the Abcg1-U2af1 interval leads to an unexpected gain of cognitive function in spatial learning. Expression analysis pinpoints several genes, such as Ndufv3, Wdr4, Pknox1 and Cbs, as candidates whose overexpression in the hippocampus might facilitate learning and memory in Ts1Yah mice. Our work unravels the complexity of combinatorial genetic code modulating different aspect of mental retardation in DS patients. It establishes definitely the contribution of the Abcg1-U2af1 orthologous region to the DS etiology and suggests new modulatory pathways for learning and memory.

Pereira PL1, Magnol L, SahšČn I, et al., Hum Mol Genet. 2009 Dec 15;18(24):4756-69. doi: 10.1093/hmg/ddp438. Epub 2009 Sep 26.
The human gene for the 10-kDa flavoprotein subunit of the mitochondrial NADH:ubiquinone oxidoreductase (Complex I) was completely cloned and sequenced. The so-called NDUFV3 gene contains three exons, spanning 20 kb. The open reading frame contains a 34-codon import sequence and a 74-codon mature protein sequence. A database search revealed close homology to bovine and rat protein sequence but not to any other known protein. Northern blot analysis showed that the NDUFV3 gene is ubiquitously expressed. The NDUFV3 gene was assigned by FISH to a single location on chromosome 21q22.3 and might contribute to the Down syndrome phenotype.

Northern blot analysis. Hybridizations of the cDNA probe (nucleotides 1-399) from the NDUFV3 gene to 2 ug poly (A)+ RNA from human tissues.

| | | |
| --- | --- | --- |
| Lane 1: Pancreas | Lane 2: Kidney | Lane 3: Skeletal muscle |
| Lane 4: Liver | Lane 5: Lung | Lane 6: Placenta |
| Lane 7: Brain | Lane 8: Heart | Lane 9: Peripheral blood leukocyte |
| Lane 10: Colon | Lane 11: Small Intestine | Lane 12: Ovary |
| Lane 13: Testis | Lane 14: Prostate | Lane 15: Thymus |
| Lane 16: Spleen | | |

RNA size marker band 0.5kb are indicated at both sides.

de Coo RF1, Buddiger P, Smeets HJ, van Oost BA. Genomics. 1997 Oct 15;45(2):434-7.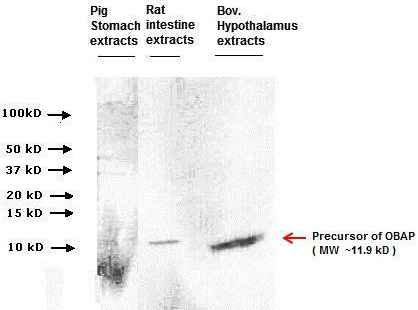 Primary Ab dilution: 1:1000
Secendary HRP-Ab dilution: 1:2500