Retinol Binding Protein 4
An Adipokine potential contribution to pathophysiology of obesity
Serum retinol-binding protein-4 is reduced after weight loss in morbidly obese subjects obesity
Context: Administration of retinol-binding protein 4 (RBP-4) impairs insulin sensitivity in animals, and elevated serum concentrations have been associated with insulin resistance in humans. Objective: We have therefore studied whether weight loss influences RBP-4.
Patients and Methods: Fasting serum concentrations of RBP-4 were measured before and 6 months after gastric banding surgery in 33 morbidly obese patients aged 40±11 years with a body mass index (BMI) of 46±5 kg/m2. Fourteen healthy subjects aged 29±5 years with a BMI<25 kg/m2 served as controls. To characterize the association of weight loss with central and peripheral appetite regulation, the signalling protein agouti-related protein (AGRP), the orexigenic hormone ghrelin and its recently identified antagonist obestatin was determined.
Results: At baseline RBP-4 levels were markedly higher in obese than in lean subjects (2.7±0.5 ng/ml vs. 0.9±0.5 ng/ml, p<0.001). In contrast, AGRP and obestatin were lower in obese subjects compared with lean controls (all p<0.001). Six months after gastric banding BMI was reduced to 40±5 kg/m2, RBP-4 to 2.0±0.7 ng/ml, and AGRP increased from1.8±1.1 to 3.4±1.1 ng/ml, ghrelin from 93±58 pg/ml to 131±70 pg/ml, and obestatin from 131±52 to 173±35 pg/ml (all p< 0.05). Individual changes of RBP-4 were associated with changes of BMI (r=0.72), the homeostasis model assessment (HOMA) insulin resistance-index (r=0.53) and total cholesterol (r=0.42, for all p<0.05).
Conclusion: Reductions in circulating RBP-4 may contribute to improved insulin resistance in morbidly obese subjects after weight loss. This is accompanied by favourable changes in appetite-regulating hormones which might support the sustained weight loss after obesity surgery.
Haider D. et al, J Clin Endocrin Metab. First published ahead of print December 12, 2006 as doi:10.1210/jc.2006-1839
Serum retinol binding protein 4 contributes to insulin resistance in obesity and type 2 diabetes.
In obesity and type 2 diabetes, expression of the GLUT4 glucose transporter is decreased selectively in adipocytes. Adipose-specific Glut4 (also known as Slc2a4) knockout (adipose-Glut4(-/-)) mice show insulin resistance secondarily in muscle and liver. Here we show, using DNA arrays, that expression of retinol binding protein-4 (RBP4) is elevated in adipose tissue of adipose-Glut4(-/-) mice. We show that serum RBP4 levels are elevated in insulin-resistant mice and humans with obesity and type 2 diabetes. RBP4 levels are normalized by rosiglitazone, an insulin-sensitizing drug. Transgenic overexpression of human RBP4 or injection of recombinant RBP4 in normal mice causes insulin resistance. Conversely, genetic deletion of Rbp4 enhances insulin sensitivity. Fenretinide, a synthetic retinoid that increases urinary excretion of RBP4, normalizes serum RBP4 levels and improves insulin resistance and glucose intolerance in mice with obesity induced by a high-fat diet. Increasing serum RBP4 induces hepatic expression of the gluconeogenic enzyme phosphoenolpyruvate carboxykinase (PEPCK) and impairs insulin signalling in muscle. Thus, RBP4 is an adipocyte-derived 'signal' that may contribute to the pathogenesis of type 2 diabetes. Lowering RBP4 could be a new strategy for treating type 2 diabetes.
Yang Q, et al. Nature. 2005 Jul 21;436(7049):356-62.
Metabolism: A is for adipokine
Adipokines are hormones that signal changes in fatty-tissue mass and energy status so as to control fuel usage. A fat-derived adipokine that binds to vitamin A provides a new link between obesity and insulin resistance. Clearly, the study by Yang et al.2 moves the adipocyte and its secreted factors closer to the epicentre of the diabetes and obesity epidemic.
Deborah M. Muoio1 and Christopher B. Newgard1. Nature. 2005 Jul 21;436(7049):337-8.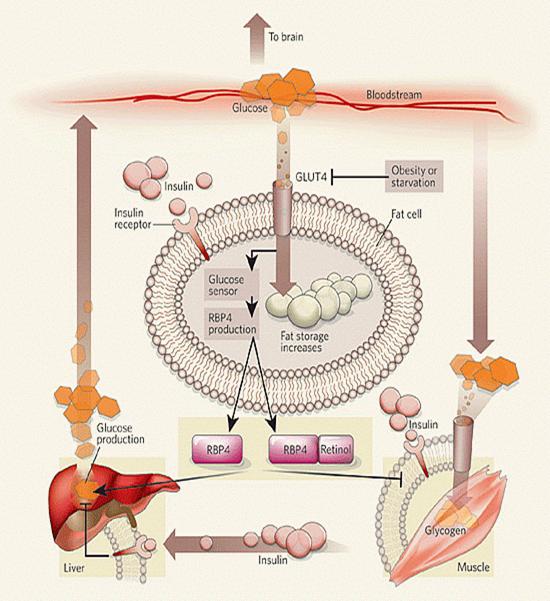 In normal individuals, binding of insulin to its receptor on the cell membrane stimulates glucose uptake into muscle and fat cells through the GLUT4 transporter. It also inhibits glucose production in liver, thereby maintaining normal glucose levels in the blood. In adipose tissue, glucose provides fuel for the synthesis of fat stores, which serve as the body's main energy reservoir. Yang et al.2 found that the decrease in GLUT4 expression that occurs in the fatty tissue of obese animals is accompanied by increased expression and secretion of the fat-derived factor RBP4. This factor, possibly working in concert with retinol (vitamin A), impairs insulin signalling in muscle, inhibiting glucose uptake, and interferes with insulin-mediated suppression of glucose production in the liver, causing blood glucose levels to rise.
Deborah M. Muoio1 and Christopher B. Newgard1. Metabolism: A is for adipokine. Nature 436, 337-338 (21 July 2005) | doi: 10.1038/436337a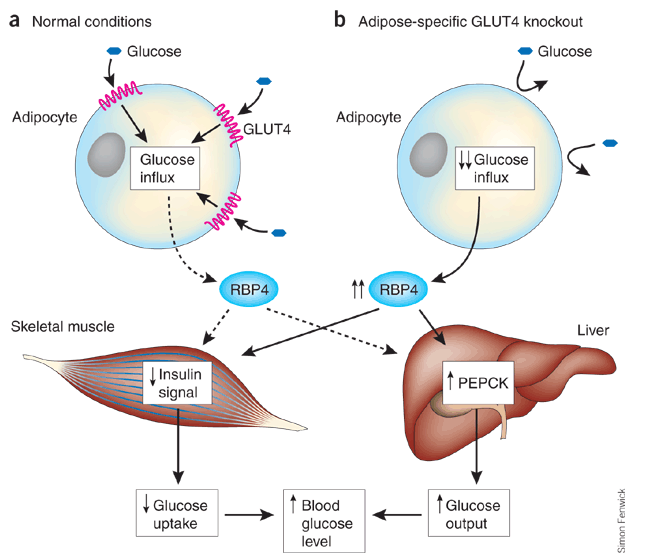 Figure 1. Expression of GLUT4 in adipose tissue regulates glucose metabolism in skeletal muscle and liver through RBP4.
Under normal conditions, glucose influx into adipocytes mediated by GLUT4 results in only a low level of secretion of RBP4 by these cells (a). In adipocytes lacking GLUT4, glucose influx is greatly reduced and RBP4 secretion into the circulation is consequently increased (b). Circulating RBP4 inhibits insulin signaling in skeletal muscle and upregulates expression of the gluconeogenic enzyme phosphoenolpyruvate carboxykinase (PEPCK) in the liver. The consequent reduction in glucose uptake by muscle and increase in glucose output by the liver together result in an increase in blood glucose. The expression of GLUT4 is reduced in adipocytes of animals or humans with obesity and type 2 diabetes, with the result that glucose influx through GLUT4 is decreased and secretion of RBP4 is increased. The secretion of other adipokines—including adiponectin, tumor necrosis factor and resistin—is also altered in obesity and type 2 diabetes9, and these factors also may contribute to regulation of blood glucose level in these disorders.
Yoshikazu Tamori, Hiroshi Sakaue & Masato Kasuga. Nature Medicine 12, 30 - 31 (2006)